From gin to Chardonnay
At the end of the 1980s, the SAQ was still where Quebecers would go when looking to purchase hard liqueur. Gin, whisky, and other spirits represented the majority of sales, while wine made up approximately 40% of the SAQ's total sales revenue. However, wine was also gaining momentum: from 1976 to 1980, wine sales more than doubled. And that was just the beginning...
Although many still preferred beer — especially while watching a Canadiens-Nordiques game or an episode of Lance et Compte — wine began to make up the majority of SAQ sales as of 1985. As the millennium drew to a close, the numbers weren't just inversed... they were completely overturned! In 1999‑2000, wine represented approximately 81% of total sales. Les Nordiques were gone, but wine was here to stay.
This radical transformation was more than a commercial shift; it was a reflection of a society that, from one referendum to another, and from the development of Québec Inc. to the international emergence of Cirque du Soleil, Céline Dion, Robert Lepage, Denys Arcand, and many other talented artists, gained self-confidence and learned to open itself up to the world.
This transformation also resulted from a major revolution in the world of wine, both in the market and in consumers' daily habits, not only in Québec, but around the world. In the last two decades of the 20th century, wine was significantly democratized, particularly with the arrival of "new world" countries, and affordable vintage wines that are easy to understand and appreciate. No longer reserved for special meals or connoisseurs capable of differentiating between appellations and big estates, wine was now part of Quebecers' daily lives. Plus, this was when wine coolers arrived. These premixed spritzers became very popular very quickly near the end of the 80s.
Chardonnay or Sauvignon?
At the turn of the year 2000, white wine was associated with two grape varieties: Chardonnay and Sauvignon Blanc. These two varieties alone represented 76% of all white wine sales at the SAQ — more specifically 43.2% for Chardonnay and 32.7% for Sauvignon Blanc. It should be said that, since the 1980s, particularly in North America, ordering a glass of house white at the restaurant was practically the same as ordering a glass of Chardonnay. It was the era of woodsy, buttery Chardonnays that were as bold and opulent as the era's hairstyles... and its shoulder pads. This style was a huge success in California and paved the way in Australia and Chile. It even guided the production of French wines. It inspired the ABC (Anything But Chardonnay) movement, which has yet to catch on...
In the case of Sauvignon Blanc, was New Zealand already starting to dominate? In part, but a large proportion of Sauvignon consumed in Québec came from Bordeaux, a region that, at the time, represented 13.5% of all white wine sales. The era of diversity as we know had not quite yet arrived...
Meanwhile, at the bar
Thinking back to the cocktail culture of the 80s and 90s, let's start with eloquent pictures: glass, neon, metal, and leather, pastels (for both men and women), Miami Vice style... Cocktails were at the forefront, with an abundance of Curaçao Bleu, Peach Schnapps, and other fruity and colourful liqueurs. Drinks like Sex on the Beach, Long Island Iced Tea, Kamikaze, and the Stinger were popular choices, as were Pina Coladas and Margaritas, reminiscent of the south. During the fancy late 90s, long-stemmed, V-shaped glasses with a thin, slender foot, made for the perfect receptacles for variations of the Martini — think Espresso Martini, French Martini, Appletini, and Cosmopolitan (just in time for the start of Sex and the City).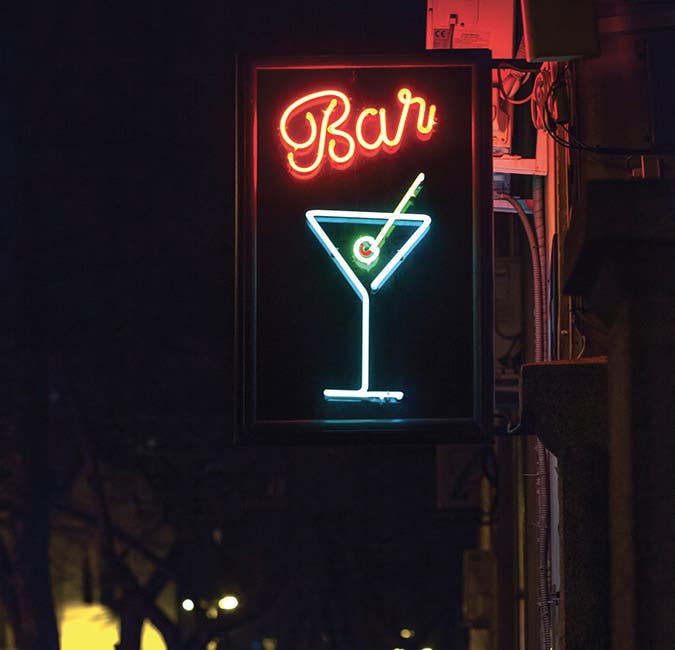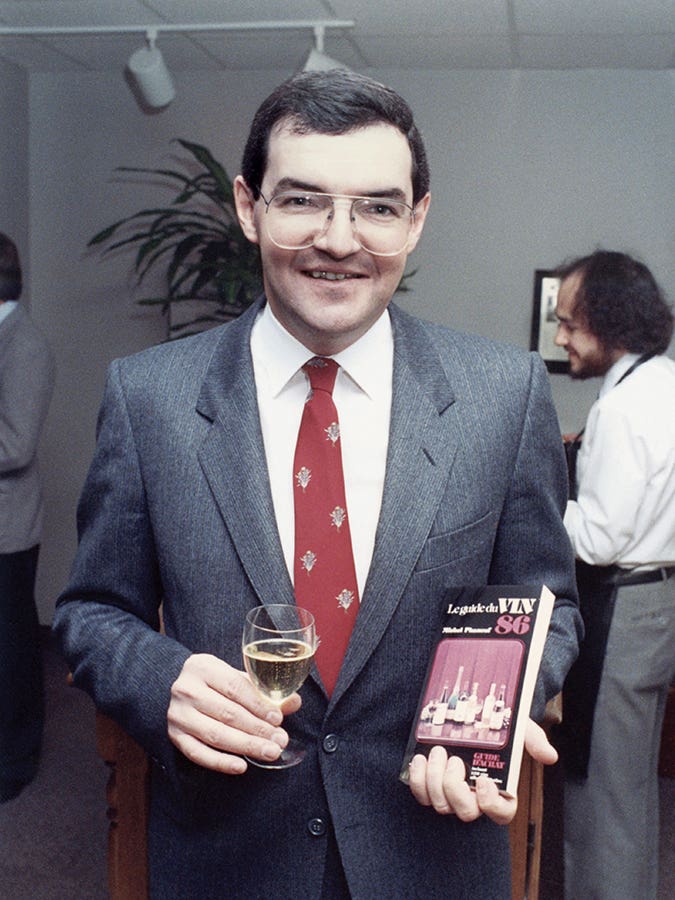 Dear Guide, tell me what to drink!
As their wine palate developed, wine lovers were able to find more information on the subject. In Québec, in 1981, le Guide Phaneuf, a book that would go on to become a true bible for dozens of thousands of wine enthusiasts, was published. A popular Christmas stocking stuffer year after year, this guide included hundreds (soon to be thousands) of wines, featured top recommended vintages — grappes d'or and coups de cœur — and rated bottles with a stars system and much precision.
Working independently, in the 80s and 90s, Michel Phaneuf became a key reference in Québec. His thorough wine identification, tasting, evaluation, and classification work was part of a worldwide trend: the creation of specialized publications intended to help consumers find their way through the exciting world of wine and to get unbiased, objective advice. Blind tasting and graded evaluations, like those in an exam, were a way to ensure readers would get the unbiased opinion of a seasoned professional. Or at least, that was the goal.
The arrival of big wine critics
In the United States, this trend emerged a few years prior, with the creation of the Wine Spectator in 1976 and, two years later, the Wine Advocate by one Robert Parker, who saw this more as a hobby, a break from his job as a lawyer. In England, Decanter magazine was born in 1975, and Hugh Johnson, author of the World Atlas of Wine, published his very first Pocket Wine Book in 1977.
However, it was in the 1980s that critics really took their place. As the market gained worldwide momentum with the emergence of New World countries in international exports and the growing number of collectors willing to put good bottles in the cellar for several years, recommendations by Parker, Johnson, Phaneuf, Robinson, and others became even more meaningful.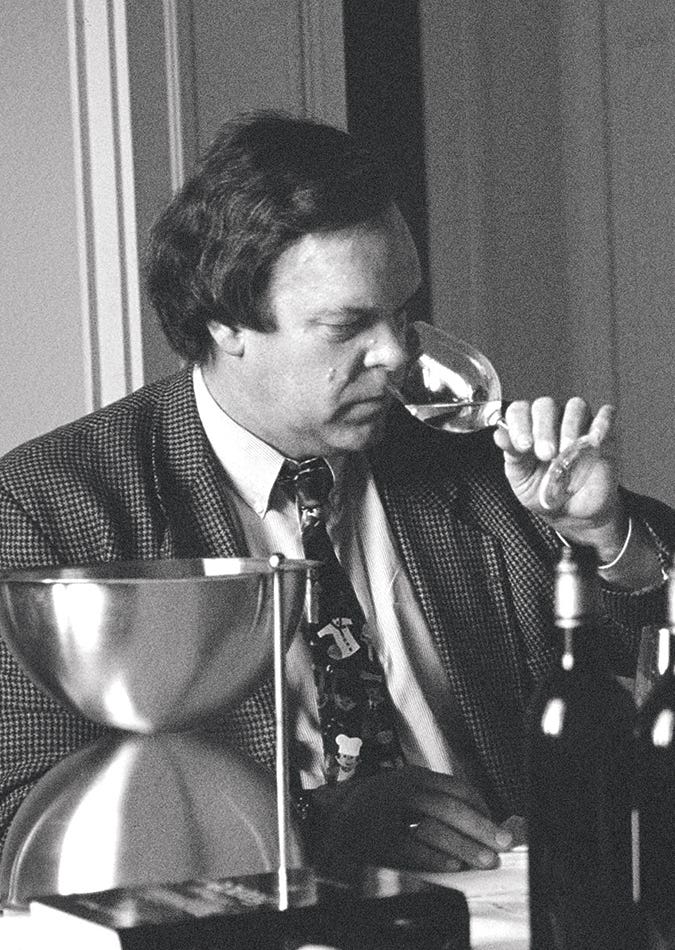 Robert Parker: the legend
The popular story of the 1982 vintage in Bordeaux — and the reputedly legendary Robert Parker — is a good indication of what provoked the significant changes in how wine was sold, and to whom. If this vintage was considered good by most critics' standards, the still quiet world of Bordeaux was thought of as old school and familial: major investments by large enterprises and the construction of luxurious, leading-edge wineries would only come several years later. In this context, Parker sang the many praises of the ripe, fruity, and medium-bodied characteristics of this excellent, most flattering vintage, creating a major buzz. Parker's tone stood out from the rest and charmed many amateurs looking to explore with him. Buy without restriction; it's an investment: that's what this critic preached, with typical American enthusiasm.
The world followed the movement, and the wine market quickly transformed. The new Bordeaux to come out in the following two or three decades were like a religious ritual, while prices and demand quickly went up, from one "vintage of the century" to the next. In the era of power suits and large ties, the price for great wines was climbing faster than stock indexes!
Garçon, a bottle of your finest, please!
Whether wines produced by the biggest châteaux and domains or everyday wines, big critics grew in popularity in parallel with the development of techniques and technologies, both in terms of viticulture and winemaking. Several ingredients contributed to overall quality improvement: mastering grape maturity, better sorting of vines with the arrival of chai, installation of modern, stainless steel tanks, temperature control, superior quality of barrels (the use of new wood was a growing trend), better understanding of wine's chemistry, better training of winemakers all over the world, progression of flying winemakers from Bordeaux or California to help producers in Chile, Argentina, South Africa, and so on.
The growing competition between countries also forced European countries to improve quality, with newcomers offering good wines at affordable prices (and more ambitious vintages, too). Later, it would be said that these factors, combined with critics' fondness for ripe, extract, rich, and woody wines led to a uniformization of taste. But at the time, few people contested the evolution that put pleasure first.
When the SAQ connects
In 1996, the Société des alcools du Québec joined the information highway, as it was known back then, with its SAQ.COM website. At the time, the site's primary purpose was to allow Internet users to see what inventory was available in store. It was a huge step, offering the ability to see products, which were now easier to find, and marked a new way to shop for those willing to go out of their way for those hard-to-find bottles.
In 2000, the site went transactional, opening new doors — that are still evolving — to help find your favourite products. And the SAQ.COM website continues to evolve. In early 2021, an important technological update was done in order to offer an improved platform, allowing for simple, intuitive browsing adapted to all devices (mobile, tablet, and laptop).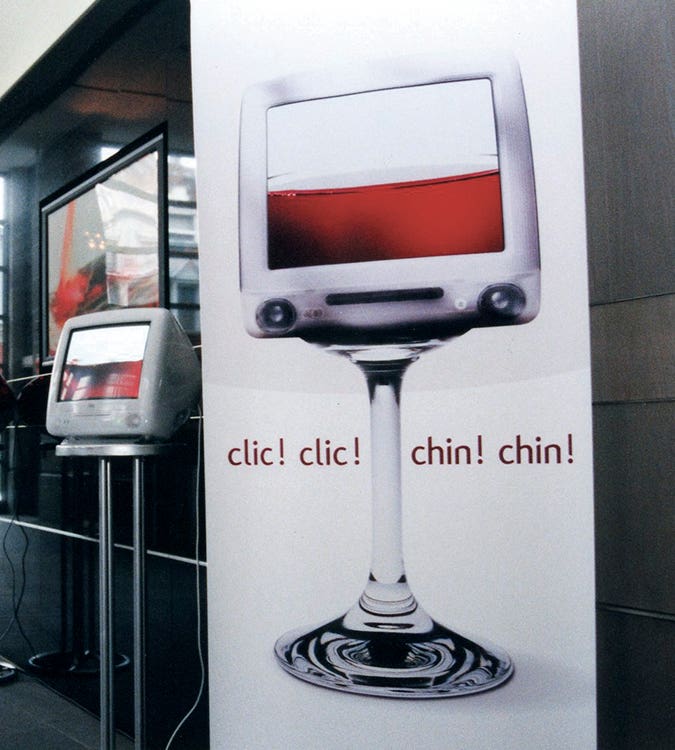 Mass phenomenon
The democratization of wine — and the influence of critics who were committed to informing consumers about wines not to be missed — led to strong movements in public styles and preferences. Certain types of wines grew very popular, and others were soon forgotten. A far cry from its former Régie and Commission des liqueurs self, the Société des alcools significantly developed its commercial side in response to the trends and a growing number of enlightened amateurs and connoisseurs. In an effort to support new fans, in 1998, the SAQ launched its Les Connaisseurs workshops, which were offered for some 22 years.
This led to the creation, in the 1990s, of a more in-depth training for SAQ staff, and the specializing of SAQ Express, SAQ Classique, and SAQ Sélection stores — with SAQ Signature as the cherry on top. Buyers of more specialized products could discuss arrivals with their favourite Sélection representative, whereas the more casual Friday-night shopper could make a quick stop at the Express store for a good bottle.
What were we drinking?
Beyond the Bordeaux (a region representing about 1/8 of sales all on its own at the end of the 1990s) and Chardonnay, other trends emerged, revealing the craze sweeping the market at the time.
New Beaujolais
A can't‑miss annual event. The most intense of these trends was probably the new Beaujolais, which became a true phenomenon in the second half of the 1990s. Whereas in 1975, we would only get a mere 200 cases — just enough to add a little sunshine to November — sales moved up to thousands and eventually tens of thousands of cases, with Italian vini novelli joining the Beaujolais. Restaurants and bars also took interest — how can they not — and there were big parties. In November 1994, 24,700 cases sold in just 36 hours. In 2000, a new record was set, with an impressive 48,500 sold in just a few days. Looking back, we can all agree that there hasn't been much to rival this massive event over the years.
King Port
A little more subtly, in the 1990s, Port also took up a prominent place in Québec, making the province one of the main markets in the world for this fortified wine. Better yet, Quebecers became known as consumers with good taste, opting mostly for high-end categories (vintage, late‑bottled vintage, tawny aged 10, 20 or more years), to the great delight of Portuguese estates. In 2001, nearly 2.5 million bottles were sold.
These two categories have since slowed down, and other waves began: Argentine Malbec, Australian Shiraz, Pinot Gris, Prosecco, etc. The SAQ's 100th anniversary is the perfect opportunity to think of the drinks of the past, and all that has changed since.
Cocktail memory
Formerly known as the Stealth Martini in the 1960s, the cocktail resurfaced as the Cosmopolitan in the 1970s. Ten years later, the character of Carrie Bradshaw in the hit TV series Sex and the City would put the drink front-and-centre, making it one of the most popular cocktails around the world.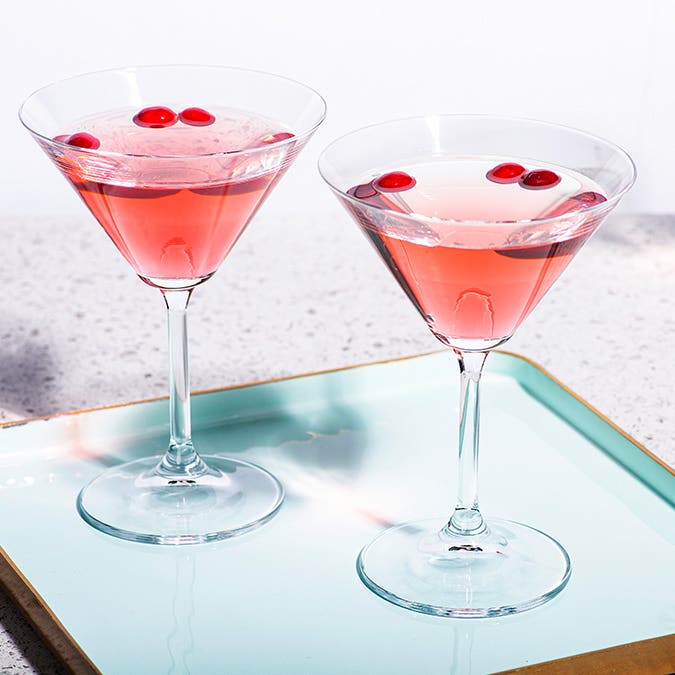 Cosmopolitan
Makes 1 drink
Ingredients
45 ml (1 1/2 oz.) vodka
15 ml (1/2 oz.) citrus liqueur
20 ml (2/3 oz.) cranberry juice
Juice of 2 lime wedges
Ice cubes
3 cranberries
Preparation
Combine all ingredients (except the cranberries) in a shaker filled with ice cubes. Shake vigorously for 8 to 10 seconds. Strain into a martini glass using an ice strainer. Garnish with cranberries.
What were we eating?
World cuisine
The growing presence of wine was reinforced with gastronomical trends, also on the rise. The 1980s were marked by the emergence of new and fusion cuisine. In Québec, restaurants offered food from all over the world and became more refined, and wine lists took on never-before-seen proportions (think Bistro à Champlain, located in the Laurentians, founded by Champlain Charest in the mid 80s).
Sushi
The first sushi restaurants opened their doors, and gastronomy took a new turn in establishments such as Serge Bruyère's in Québec City and Normand Laprise's Toqué! in Montréal. The 80s also marked the arrival of bring‑your-own-wine restaurants, a new way to enjoy a good bottle with your meal.
Health
There was also a health component to all of this. Studies on the French Paradox mentioned that consuming wine (particularly red wine) helped prevent heart disease. By the end of the 1990s, Michel Montignac added to this with a diet model where wine was more than welcome. All that to say that turning to wine is a good idea all around.
Recipe memory
Tracing its exact origins is difficult, but we do know that this typically Quebecois dish became part of our grandmothers' repertoires in the years of the Depression. During that period, leftover meat would be sandwiched between two layers of rice or puréed potato.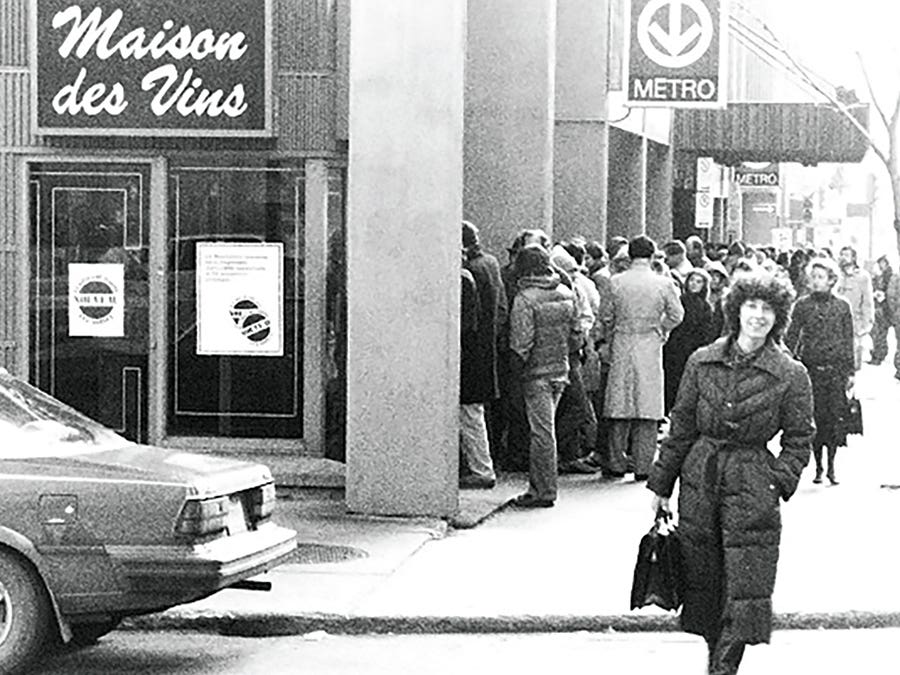 Les vins nouveaux font d'abord une entrée discrète au Québec en 1975 avec 200 caisses distribuées en succursale. Mais leur succès est tel que, cinq ans plus tard, 8000 caisses débarquent dans les entrepôts de la SAQ, pour le plus grand bonheur des amateurs. L'engouement se poursuit jusqu'aux années 2000 alors que près de 50 000 caisses sont commercialisées afin de répondre à la forte demande.
Photos: QMI archives / Media (cover, SAQ Signature store,1999 and Michel Phaneuf, 1985); SAQ Archives (SAQ.COM, 2009); Valeria Bismar (cocktail and recipe).