"For anyone paying any attention, Quebec's wine landscape has changed a lot," states sommelier Kathleen McNeil, who has been teaching at ITHQ for almost 10 years. Other than the effect of vintners having more winemaking experience, a factor that accumulates slowly, she mentions the repercussions of climate change, which although deplorable from one point of view, seems to have had positive effects on viticulture in the province. "The climate is heating up and vines in many terroirs are benefiting," explains the sommelier. "For two decades the only varieties we cultivated were hybrids with a shorter growing season and greater cold resistance, like St. Croix or Vidal. But with time we'll be able to enjoy Quebec-grown Rieslings, Gamays and Chardonnays."
What's her secret for discovering great home-grown wines? "Just get out there!" she exclaims. "Visit the vineyards, sample their products, meet the growers so they can explain their process. Quebec wines won't be the same after that. Once you know what you're drinking and where it came from, that makes a big difference. Especially when it's good. Expect to be won over!"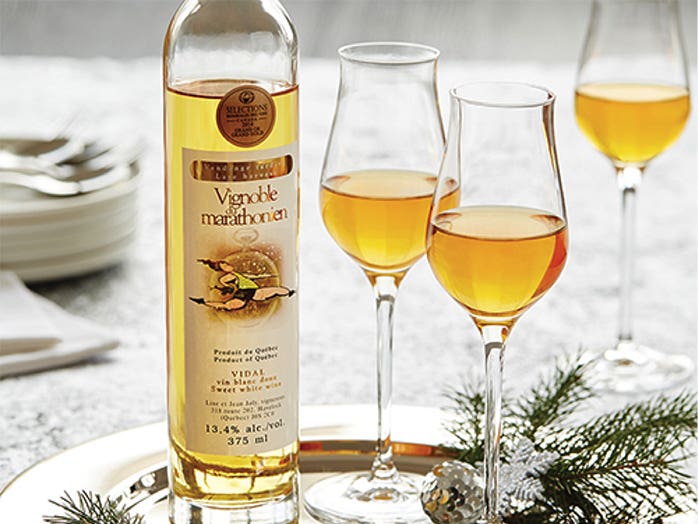 Popular choices
Quebec already has a good reputation for its sweet wines, with our ice wines and late harvest wines having proven their value. In the case of late harvest wines, the warmer fall weather of the past dozen or so years has greatly favoured the maturation of the grapes. "The grapes are left on the vine, called passerillage," McNeil explains. "This is how the grape loses its water content, which concentrates the sugars and natural acidity."
"Many growers leave their late harvests for six weeks after the usual harvest. Here, we usually leave them for 10 weeks," states Jean Joly, vintner at Vignoble le Marathonien, whose sweet wines are particularly well known. McNeill adds, "We make a lot of sweet wines here in Quebec using blends of Seyval Blanc, which lends a natural freshness, and Vidal, a more rounded hybrid that is cold resistant. They're very popular, super delicious, and we really know how to make them well."
A Quebec Version of a classic pairing
Everyone is familiar with the classic pairing of foie gras with Sauternes. In Quebec, Vignoble du Marathonien's late harvest vintage is made from a base of Vidal, whose complex aromas give the wine a rich, ample and rounded mouthfeel. It creates a delicious harmony in terms of taste and texture with foie gras served on brioche that has been lightly buttered and toasted. For a special touch, add a bit of wine jelly made with the same wine.
Vignoble du Marathonien Vendange Tardive 2019 White wine

|

375 ml

Canada

,

Quebec

Available

Online

Available

In store
Down with preconceptions
As a teacher and sommelier, McNeil makes it a point of honour to break down her students' preconceptions when it comes to Quebec wine. "When you make pastry, it takes a few days to test a recipe until you make it perfect. In winemaking, it takes at least seven years to understand a vine and how its grapes respond once bottled. That's a long time!" For the past 20 years, Quebec winegrowers have acquired a lot of experience with regard to the different factors that affect the quality of a wine, such as geology, the presence of bodies of water, nearby hills and escarpments, the role wind plays in the fields and how different climates affect vines. "You can taste their acquired experience in the glass," confirms McNeil. So can the sommeliers of many reputable restaurants, who now offer Quebec wines on their menus, with Domaine St-Jacques being merely one brilliant example.
Subtule and delicate
Albacore Tuna Tataki, which is served almost raw, is a fine, delicate dish that will set off this wine's fresh aspect. Complete the meal by serving the dish with a dash of lime-zested mayonnaise, which will also bring freshness and add balance.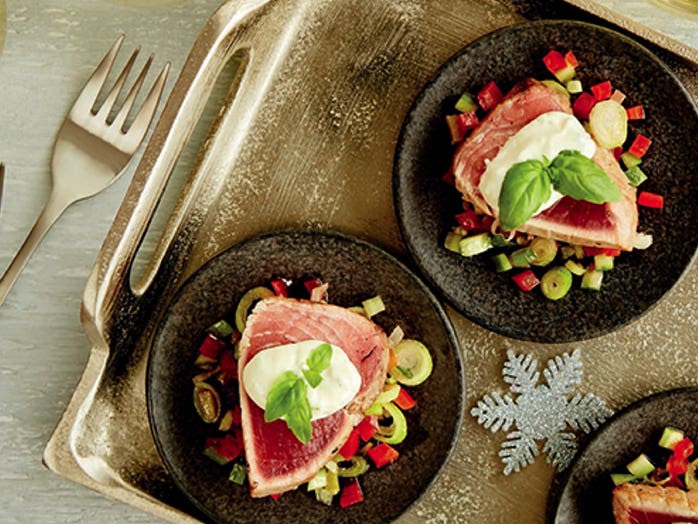 Domaine St-Jacques Riesling 2020 White wine

|

750 ml

Canada

,

Quebec

Not available

Online

Available

In store
Discover a world of Origine Québec products at the SAQ!