Fresh, refreshing, delicate… Rosé has everything it takes to make it an excellent choice all year round, not just during the summer months! And while it may be synonymous with relaxing in the sun, this easy-drinking wine is more complex than it might appear and pairs nicely with a range of dishes.
Here are three suggestions for rosés that will transport you from France to New Zealand, then back home again. And each one is matched with a recipe to inspire a future dinner party. Because in the summertime, why not wear rosé-tinted glasses?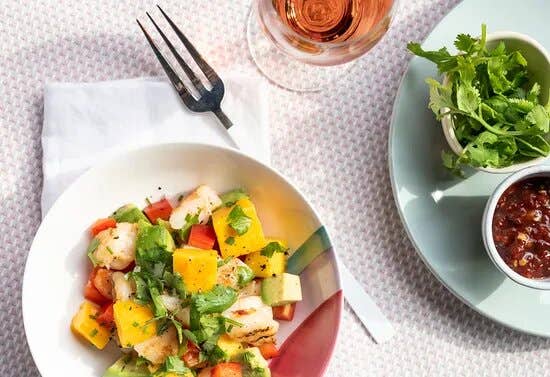 Grilled shrimp, mango and avocado salad
Preparation: 10 minutes
Cooking time: 4 minutes
Portions: 4
Roseline is great for any occasion, be it a quiet weekday dinner or a garden party with friends. And with unbeatable value for money year after year, this pale pink rosé—typical of really good wines from the southwest of France—charms with its expressive aromas of strawberry, peony and apple. Crisp, smooth and well balanced, it's just tart enough to provide a refreshing counterpart to this recipe. Plus, this rosé is made with Cinsault, Grenache, Carignan and Syrah, which pair nicely with the avocado and shrimp, while the mango echoes the wine's fruity bite.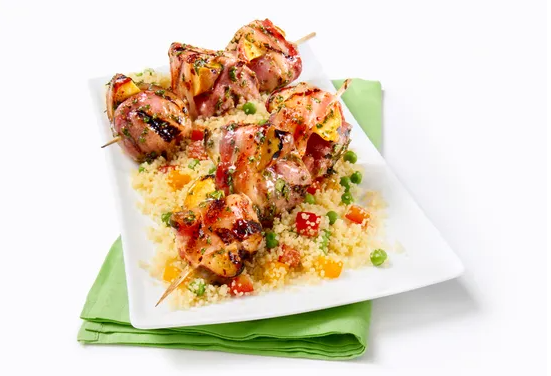 Brochettes of grilled pork and peaches
Préparation: 15 minutes
Cooking time: 15 minutes
Portions: 4
Available

Online

Available

In store
Dry yet fresh and bursting with sunshine, this rosé from New Zealand made with Merlot will be a hit with guests. The crisp smell of strawberry and blackberry is a delight, while the bold character and bright flavours of ripe peach and melon wow your taste buds, all perfectly in harmony. Let this wine sing by pairing it with this recipe. Serve the pork slightly pink (like the rosé), and voilà!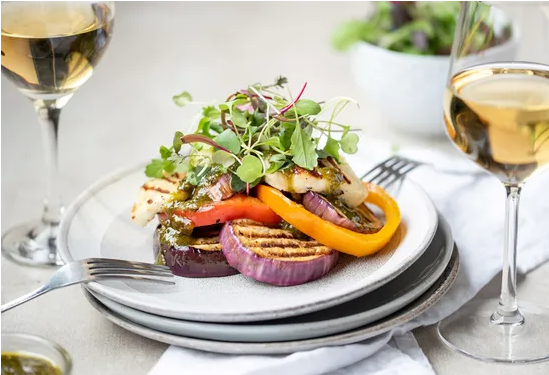 Barbecued eggplant-cheese stacks
Preparation: 15 minutes
Cooking time: 7 minutes
Portions: 4 appetizers
Vignoble Rivière du Chêne Le Rosé Gabrielle 2022 Rosé

|

750 ml

Canada

,

Quebec

Available

Online

Available

In store
This blend is made using Quebec hybrid varietals, with floral and citrus notes that bring freshness and finesse. A dry, invigorating and versatile rosé, it's sure to complement this grilled veggie dish, which shares its elegant simplicity. Not to mention, the wine's crisp tartness will provide a nice contrast to the haloumi. For a 100% Quebec pairing, swing by a farmer's market to pick up seasonal veggies and some local cheese. It's the ideal combo for laidback evenings!
In partnership with Vins Dandurand, Arterra, Vignoble Rivière du Chêne.