…And the livin' is easy
When guests show up out of the blue, easy meals are the way to go. Our mini sandwiches – with Rosette de Lyon salami, herb-cheese spread and pickles – convey an "on-vacation" mood. A large tray of makings in the middle of the table, guests helping themselves, your favourite salad… Now that's an easy and terrific lunch!
Sandwich bar
A fun way to entertain is to put all the ingredients on the table and let your guests create their own sandwiches. Present an array of cold cuts, cooked Nordic shrimp, roasted veggies, condiments like pesto, chutney, spiced mayonnaise, guacamole and apple slices, and a basket full of ciabatta bread, baguette slices, tortillas, Kaiser rolls, pita bread, etc. As for what wine to drink with the sandwiches, keep it simple by offering a dry and thirst-quenching acidic white, as well as a low or non-woody red with dominant fruit aromas and supple tannins, served slightly chilled. Once the table is set, let your guests make their own selection. Enjoy!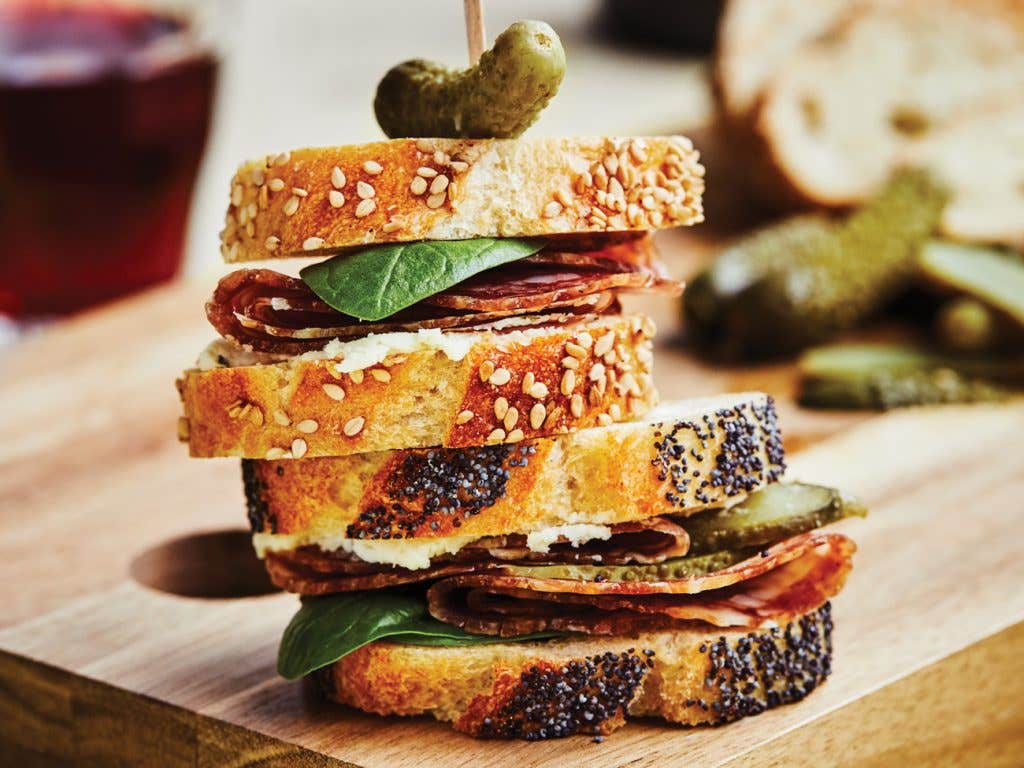 Rosette de Lyon on sliders
Preparation: 10 minutes
Cost per serving: about $4,55
4 servings
Ingredients
24 slices of baguette bread
1 spreadable fresh cheese with herbs (such as Boursin)
225 g (1/2 lb) Rosette de Lyon salami, thinly sliced
6-8 small pickles, thinly sliced
6-8 rinsed lettuce leaves of your choice (Boston, curly, escarole)
1. Spread a thin layer of cheese on each slice of bread. 2. On half the slices of bread place slices of the Rosette de Lyon salami. 3. Add pickle and some lettuce. 4. Close the sandwiches with the remaining slices of bread.
What to drink with this sandwich?
Simplicity often works best. That's the case with this most classic of food-wine pairings. The combination of salty salami and sour pickles calls for a fruit-forward wine with a good dose of acidity and silky tannins. Reds with the Fruity and Medium-Bodied taste tag fit the bill perfectly and pair nicely with charcuterie.