The new buffet king
Cocktail sausages have always been a party staple during the holidays. To give them a revamped look, deep-fry them until they're golden brown and serve them with a honey-mustard dipping sauce. You can prepare the sauce ahead of time—you can even whip up a selection of sauces: spicy homemade ketchup, lemon and herbs mayonnaise, or sweet and sour orange.
Frying 101
There are three ways to make a successful batter: with milk, carbonated water, or beer. Blond ale will result in a crispy batter and is often the ingredient of predilection for fish and chips. Milk is often used in dessert recipes, such as doughnuts, because it makes for fluffier batter. Try flavouring your batter according to your guests' tastes. For example, our corn dogs are simply divine if you add a dash of smoked paprika, curry, or Cayenne pepper to the mix.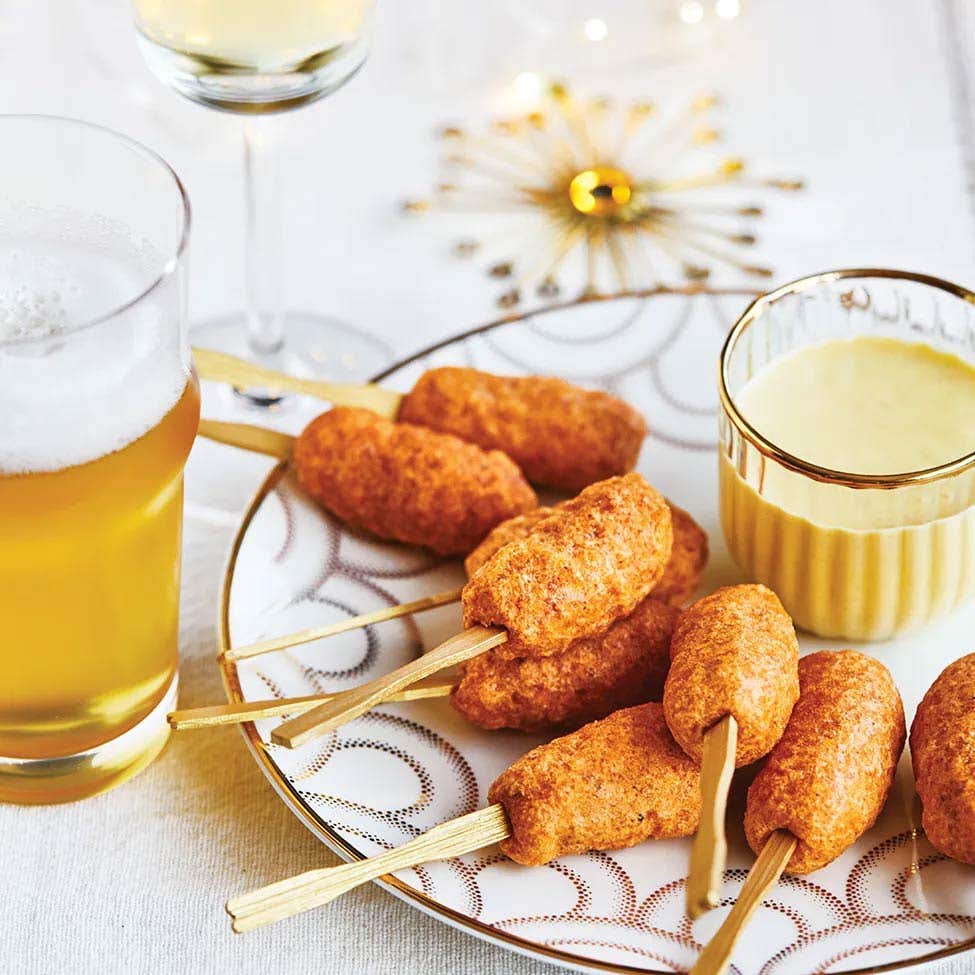 Mini corn dogs
Preparation: 30 minutes
Cooking: 10 minutes
Cost per serving: About $0.35
24 bites
Ingredients
1 225-g package of cocktail sausages, cooked
Honey-mustard sauce
125 mL (1/2 cup) Greek yogurt or mayonnaise
30 mL (2 tbsp) honey
30 mL (2 tbsp) Dijon mustard
5 mL (1 tsp) lemon zest
5 mL (1 tsp) lemon juice
Salt and pepper
Batter
125 mL (1/2 cup) fine cornmeal
125 mL (1/2 cup) flour
5 mL (1 tsp) smoked paprika
5 mL (1 tsp) pepper flakes
310 mL (1 1/4 cup) sparkling water
Salt and pepper
Preparation
1. Preheat oil in deep fryer to 190°C (375°F).
2. Mix together all the ingredients for the honey-mustard sauce. Refrigerate.
3. In a bowl, combine dry ingredients for batter.
4. Whisk in sparkling water.
5. Coat sausages with batter.
6. Fry sausages approximately 2 minutes, or until golden brown and crispy.
7. Drain on paper towel.
8. Serve with honey-mustard dipping sauce.
Tip
For a light and super-crispy batter, let your mixture rest in the fridge for at least an hour. Also, use peanut oil to fry. Make sure your oil is hot enough; it needs to be at least 180°C (350°F).
Make it veggie
Expecting vegetarian guests? This recipe is just as delish with tofu!
What to drink with these mini corn dogs?
Our mini corn dogs make for a super laid-back happy hour… and that calls for cold beer! For a perfect pairing, crack open a blond ale with hoppy accents and a touch of bitterness. Or, think outside the box and go with mead. Locally produced and utterly divine, mead is a demi-sec honey wine that would be simply sublime paired with our honey-mustard dipping sauce. More of a white wine drinker? A Chardonnay with the "Aromatic and mellow" taste tag and a refreshing acidic profile would really balance out the fattiness of the fried batter.
Intermiel Bouquet Printanier Honey wine

|

750 ml

Canada

,

Quebec

Available

Online

Available

In store

Available

Online

Available

In store