Planning a crypt-rocking Halloween? Here are cocktail and decor tricks, and treats to create a festive vibe!
1. A terrifyingly cool atmosphere!
Looking for ways to impress this Halloween? Create a horror movie ambience with some dry ice. Dry ice transforms from a solid to a gas when it undergoes a change in temperature, which creates a smoky haze perfect for Halloween!
Preparation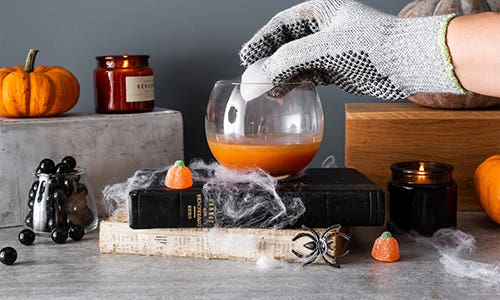 Just place dry ice in a bowl of coloured liquid – orange or black liquid is great for keeping the Halloween theme. Although seasoned mixologists sometimes use dry ice in their cocktail creations, we recommend you just use it to decorate your table. Warning: Dry ice, which reaches a temperature of -78°, must not be ingested, and it's important to wear gloves or use tongs when manipulating it.
Tricks and treats
Use a cognac glass so the smoke remains as dense as possible when it's released – the effect will be show stopping! This frightfully fun décor idea is guaranteed to cast a spell!
To purchase dry ice, head to lindecanada.ca and select a store near you. Certain retailers, such as Canadian Tire and Walmart sometimes have dry ice in stock, but your best bet is to call beforehand just to make sure.
2. Zombie eyes!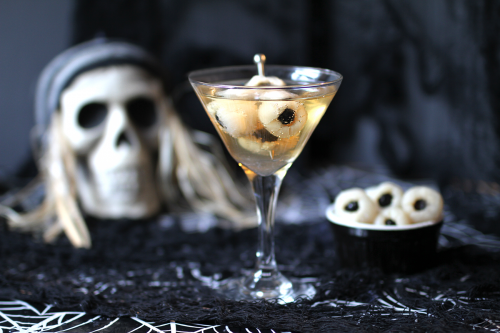 Transform your Martini Lychee into a scary sight! All you need are litchis and blueberries to create a bowl full of zombie eyes—the perfect campy Halloween drink accoutrement!
Preparation
Take a litchi and insert a blueberry in its centre to create an "iris". Secure the blueberry by stabbing the litchi and berry through their centres with a cocktail spear or skewer and drop them into martini glasses, punch bowls, or drinking glasses.
Tricks and treats
Canned litchis preserved in syrup are perfect for this decoration—and easily found in grocery stores. While Quebec blueberries are always top of our list, leave them for eating because they're a little too small to stay within the litchi's centre. Instead, opt for imported berries that are, on average, much larger in size.
Simple to make and deliciously munchable, zombie eyes will thrill to the bones and make your Halloween punch bowl a real scream!
3. Cocktail blood!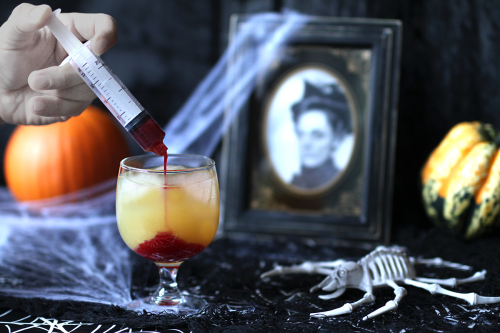 Vampires and Undead at home? Why not scare up some fun with this visual trick that only requires easily made red syrup… and gullible minds!
Preparation
Bring water and sugar to a boil and let simmer for roughly one minute, until all the sugar has dissolved (this makes "simple syrup"). Put cleaned raspberries into a large bowl and pour the warm simple syrup over them. Place bowl in refrigerator for roughly 48 hours. After time has elapsed, remove bowl from fridge and filter the raspberry-flavoured simple syrup using a sieve. Purchase some sterile syringes at the pharmacy.
Tricks and treats
When you are about to serve cocktails or drinks, fill the syringes with the raspberry simple syrup. Place "cocktail blood" syringes into serving glasses and choose how much bloodletting you want to create the desired effect. Werewolves are particularly fond of this tip!
4. Devilish drinks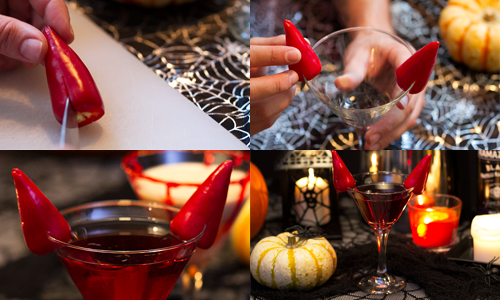 Summon the Dark One to share a glass! All you need are mini red peppers and/or mini hot red peppers, perched on either side of your drinking glass…and of course, a Ouija board!
Preparation
Cut the stem-ends from red peppers and remove seeds if needed (wear gloves if you're using hot red peppers). Then, lay peppers so they look like devil horns, and make a slit halfway up their length. Use the incision to set peppers on either side of Martini glasses, and invite the devil to your glass!
Tricks and treats
Serve with boldly flavoured cocktails that will stand up to a pepper's distinctive taste. Why not conjure up a Chimayo, Basil Jay or Red Velvet—if you dare dance with the Devil, find these recipes at: espacecocktail.com!
5. Vampire's glasses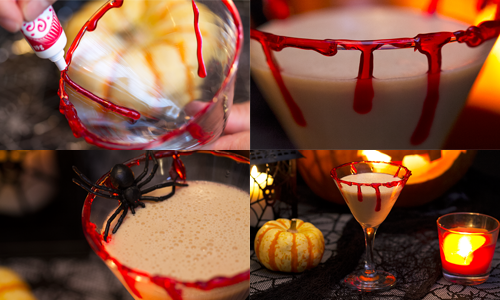 Apply red gel food colouring to the edges of your cocktail glasses to create the effect of a bleeding glass! Do you dare drink?!
Tricks and treats
For maximum effect, serve with a creamy cocktail, like a Velvety Pineapple, or an African Martini… the contrast between the seeping red traces and the milky-white liquid in the glass will summon the image of undead cadavers!
It would be a fright to be stuck behind the bar all night! Instead, place some bottles and mixers on the table in order to create a nice variety of cocktails.
Simply purchase some cocktail essentials commonly used in numerous cocktail recipes and that are sure to please: dry gin, vodka, rum, whisky and tequila. Heed our grave warning: There's no need to drain the life from your bank account to celebrate Halloween to its fullest!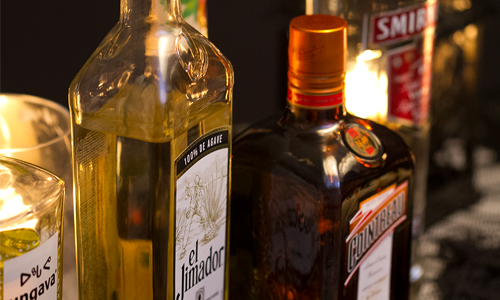 Have a Hauntingly Happy Halloween!
Photos: Marie Charest, Agence Remarke