Where does wine get its colour?
Almost all grape varieties (whether black or white skinned) produce white-fleshed fruit. This means that you can make white wine using black grapes, as long as the grapes' juices never come in contact with the skins. Contrary to red wines, white wines do not use the grape's skin in the vinification process. There are three main elements that lend white wine its colour: oxidation of the grapes, the types of grapes used and whether or not the wine is aged in wood barrels.
Why does white wine change colour as it ages?
Red wines lose colour as they age, while white wine actually gains colour the more it matures. This process can be compared to an apple's flesh turning brown when in it comes into contact with oxygen. Young white wines often have a greenish tint to them, while those matured in oak barrels tend to take on a straw-yellow hue. As they age, white wines become more golden, sometimes amber coloured.
Tip
Set your glass of wine against a white backdrop to better observe its colour. A white sheet of paper does the trick!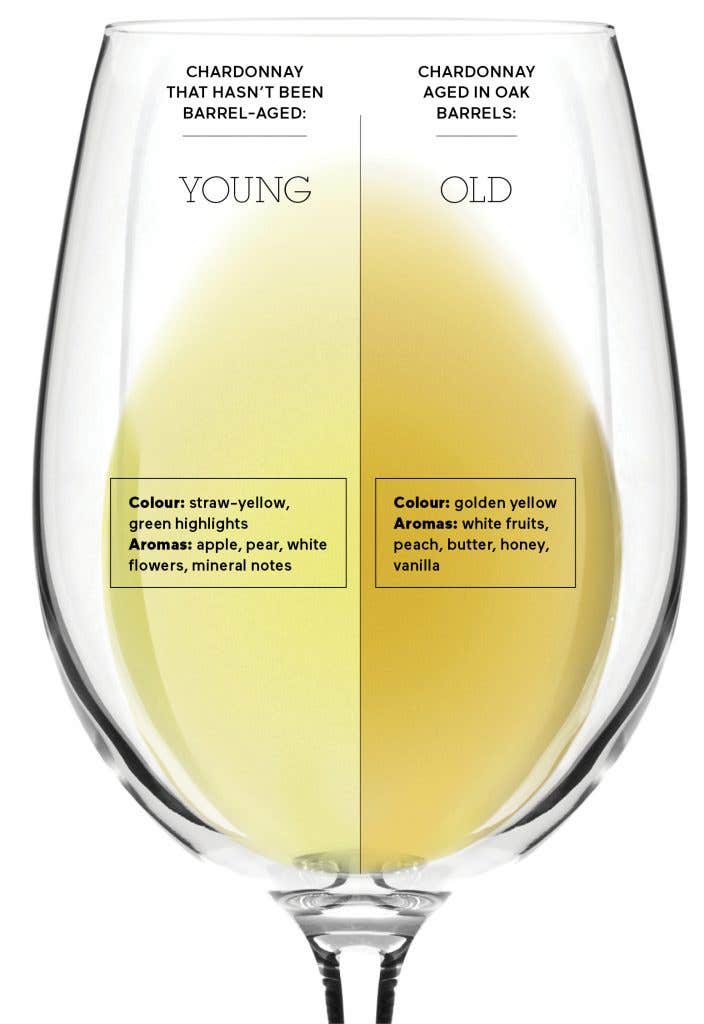 Evolution of a white wine
Tannins are responsible for the aging of red wine, while acidity and sugar are what help a white wine to mature. Dry wines made with Riesling, Chenin or vintage Champagne have excellent cellaring potential. Sweet wines, such as Sauternes and ice wine, have both ample acidity and considerable amounts of sugar and keep for quite some time. Just like reds, they gain balance, definition and aromatic complexity over time.

Did you know?
Orange wine is made from white grapes. However, before and during fermentation, it is in prolonged contact with the grapes' skins, which lends it its beautiful orange shade and a certain amount of tannins.
+READ OUR EXPLANATIONS AND ADVICE ABOUT RED WINE EVOLUTION
Visuals inspired by Wine Folly.