A nice guy with an engaging smile, Carl Villeneuve-Lepage spent the fall coming to grips with his September victory, a win that has propelled him to the highest levels of Canada's culture of sommellerie. "Once I had a minute to think about it, I found it hard to believe," explains the man whose job is to suggest wine pairings and good bottles to clientele at Montreal's Toqué!.
In the immediate aftermath of his win, the sommelier received enough offers of travel, training and jobs to make his head spin. In fact, he received so many offers that he ended up refusing most of them. An example? An Italian appellation wanted to employ him to conduct tutorials on its wines. After he did accept a trip to Australia, he was also invited by China to come and see their rapidly expanding vineyards, which include Chandon and Moët facilities close to Nepal. What's more, wine-producing giant Gallo will welcome him to California this fall during grape-harvest season so that he can take a closer look at its winemaking process. "They asked me what I would like to learn, so the program will be customized. It will give me a chance to learn more about the technique, the chemistry." In short, this first victory has already been a major stepping stone for him in deepening his knowledge and enhancing his professional skills.
Essential support
Despite all this excitement, the sommelier plans to stay on at the restaurant owned by Normand Laprise who, at the helm of one of the best eateries in Quebec, provides Villeneuve-Lepage with the ideal conditions for stimulating work and an intensive and continual learning experience. "My managers are happy with me, so they allow me the flexibility to travel and prepare for competitions."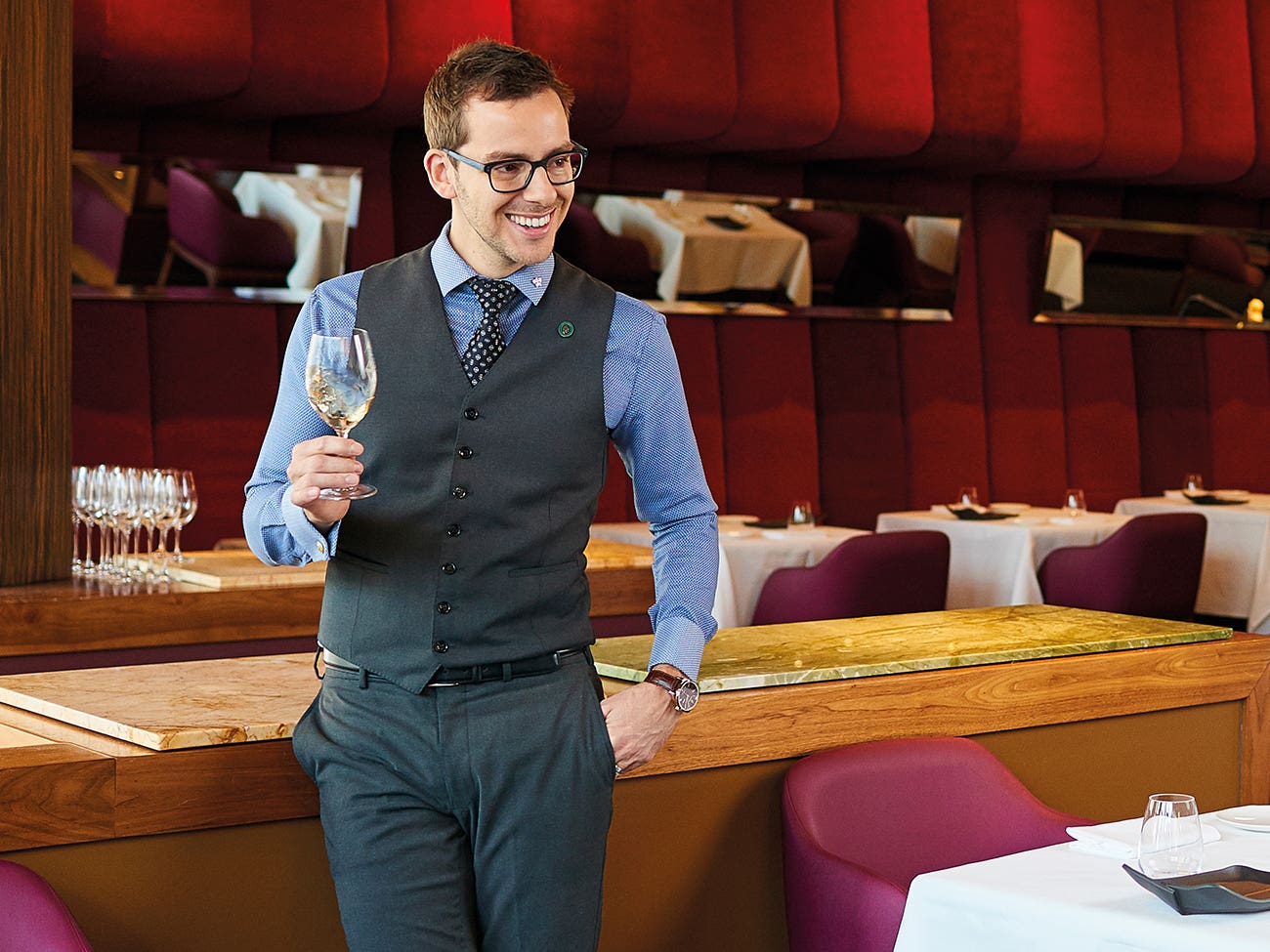 Hard at work four nights a week, he pairs wines with tasting menus, and ensures that bottle acquisitions and purchases are suitable. Despite this sizeable roster of tasks, he also continually increases his theoretical and practical knowledge base, in preparation for the Best Pan-American Sommelier Competition.
This leaves him with a lot of time during the day to perfect his theoretical and practical knowledge in preparation for the Best Sommelier of the Americas competition. He also has in his sights the world competition, which will take place next October. Even preparing his menus contributes to his training: "It may come as a surprise, but the menus at Toqué! often begin with the wines that we select. The chefs then pair their choice of menus with our choice of wines." Working on food-wine pairings means that the wine selection at Toqué! is constantly changing, allowing Villeneuve-Lepage to continually widen his tasting range.
Embarking on his quest for big wins, the sommelier was well aware of just how much preparation needed to be done. Only a few years ago, he was working as the assistant to Élyse Lambert at Le Local restaurant right when Lambert was edging out into the world as an international competitor. As for his competitive side, it goes way back: "Competitions always appealed to me. When I was younger, I took part in music competitions." Having a wide range of interests, he experimented with violin, piano and oboe. That was one way of casting the net wide, an approach that sits well with wine tasting. "The desire to go further really motivates me. I love to look at detailed maps of wine-growing regions. I am quite encyclopedic in my approach." Encyclopedic yes, but determined and persistent also. "I've never won anything on the first round," he points out. "For the title of Best Sommelier in Quebec and Canada, I had to wait for my second attempt. And this will be my second try at the Americas competition…"
This constant learning process is, for him, the best thing about his profession. It's been a long journey, one that began with a bottle of J. Lohr Seven Oaks, savoured with a pizza, at a time when he worked at the restaurant of a golf club in Beloeil. The desire to know more has persisted ever since, whether it's to better understand Italian culture or discover the glow of orange wines. "In the world of the sommelier, what's great is that you can't see the end. For example, at first I didn't pay much attention to the historical aspect – or the geopolitics of wine even – but now I see that it counts for a lot in how the wine world took shape. It changes continually, there's always something new and you meet fascinating people. We get to experience the pleasure of constantly being thrown off track and rerouted."
A sommelier's passion: our top three questions answered.
1) For you, what is a sommelier?
"A sommelier is someone who works in a restaurant and whose selections adapt to a customer's wine pairing needs. For me, quality service means being able to identify a customer's expectations in regards to product presentation (origin, history, people involved in its production, techniques used, etc.). How far into detail should you go, and how many different wine choices should you offer a customer so they feel that their expectations have been met? Sometimes, a customer only wants to hear the bare minimum, and so you have to respect that brevity."
2) What advice would you share with others?
"To customers: get out of your comfort zone when you visit an SAQ store, and ask for advice! Check out speciality products! Dare to try something new! You can make some pretty great discoveries, all while sticking to a budget—Produttori del Barbaresco's Langhe is one great example of this. To sommeliers: There will always be customers that know more than we do—don't forget that! Most of the time, these customers won't display the extend of their knowledge; I believe it's a matter of being honest and staying humble in our service and suggestions."
3) What really drives you when it comes to wine?
"Several things:
Blind tastings;
Sharing my knowledge (by teaching others, for example);
Meeting and exchanging with wine makers and suppliers;
What to pair with Sancerre?
Carl Villeneuve-Lepage had the spirit of summer in mind, which is why he opted for a Sancerre — a mineral, refreshing and elegant version of a Sauvignon Blanc.
The proposed scallops dish — a Toqué! classic – pairs perfectly with this white from Loire. The lime juice used in the recipe really complements the wine's citrusy notes, while the chervil highlights its lovely vegetal notes. Villeneuve-Lepage also points out that a ceviche with lemon zest, pickled artichokes, capers and jalapeno (an aroma that is often present in a Sauvignon) would also be an excellent choice.
We suggest pairing this with the Château de Sancerre beside.
Not available

Online

Available

In store
Ingredients
16 Princess scallops each one cut into three slices
30 mL (2 tbsp) chopped chives
15 mL (1 tbsp) lime juice
15 mL (1 tbsp) olive oil
Freshly cracked salt and pepper
30 mL (2 tbsp) diced daikon (or radish)
Chervil sprouts, for garnish
Directions
In a bowl, combine all ingredients. Let sit at room temperature for three minutes. When ready to serve, place scallops back in their shells (make sure to blanche the shells first) or directly onto plates. Top with diced daikon and garnish with chervil sprouts.
How to prepare whole scallops:
With an angled metal spatula, holding the scallops rounded side down, open the shells.
Slide the spatula the length of the top shell to detach one side of the scallop.
Detach the muscle in one quick movement so as not to damage it.
Carefully lift up the top shell. Release and remove the beard, then release the scallop.
Rinse in ice water, pat dry and refrigerate until ready to use.
PHOTOGRAPHY: Julien Faugère
PHOTOGRAPHEY (RECIPE): Maude Chauvin