Alsatian wines are the product of a region with distinct charm — just picture pretty and proud villages, surrounded by impressive hillsides, nestled into verdant valleys. The culture here is just as distinctive: Over the centuries, German and French influences have come together to make a very special blend, which is reflected in the local wines. Ninety percent of wine made in Alsace is white, a rare percentage when compared to the French status quo.
Although they produce quite lovely Pinot Noirs, which over recent decades have become more refined and expressive, Alsatian wine nobility still belongs to a wide range of whites with diverse characteristics.
When it comes to Riesling, the region's reigning monarch, the wine is vibrant, energetic, often imparted with an exceptional mineral depth and solid aging properties. Unlike their German counterparts, Alsatian Riesling is often dry, or semi so.
Gewürztraminer and Muscat-wise, things tend to get more aromatic and floral — often in a way that's quite rich, because of the Gewürztraminer vintage.
On their end, Sylvaners and Pinot Blancs display fine wine characteristics at more democratic price points, much like Alsace Moscato, always dry and very aromatic. Oftentimes you'll find them in Gentil blends such as Hugel, something we're familiar with here in Canada. In similar cases, sometimes referred to as Edelzwicker, different white vintage varieties are brought together in varying proportions, but always with a singular aim: producing pleasurable, velvety and flavourful wine. On top of it all, a good number of white grapes go toward making bubbles: sparkling Alsatian wine makes up for 25 percent of regional production.
Solid sunshine
To produce such outstanding wine, Alsatian vineyards enjoy very special conditions. Even if the region is northerly enough, winemaking Alsace gets as little rainfall as Perpignan, a city located much farther to the south on the Mediterranean. Its exceptional number of sunlight hours is due to the protective effect produced by the Vosges Mountains just to the west of the vineyards, which block Atlantic rain. Along a little 25-kilometre strip warmly nestled between the mountains and the Rhine, the conditions here are perfect for grapes. The dry climate makes life easier for wine-growers (less disease) and creates an ideal climate for organic farming. More than 16 percent of vineyards here are certified organic, compared to the French national average of 10 percent.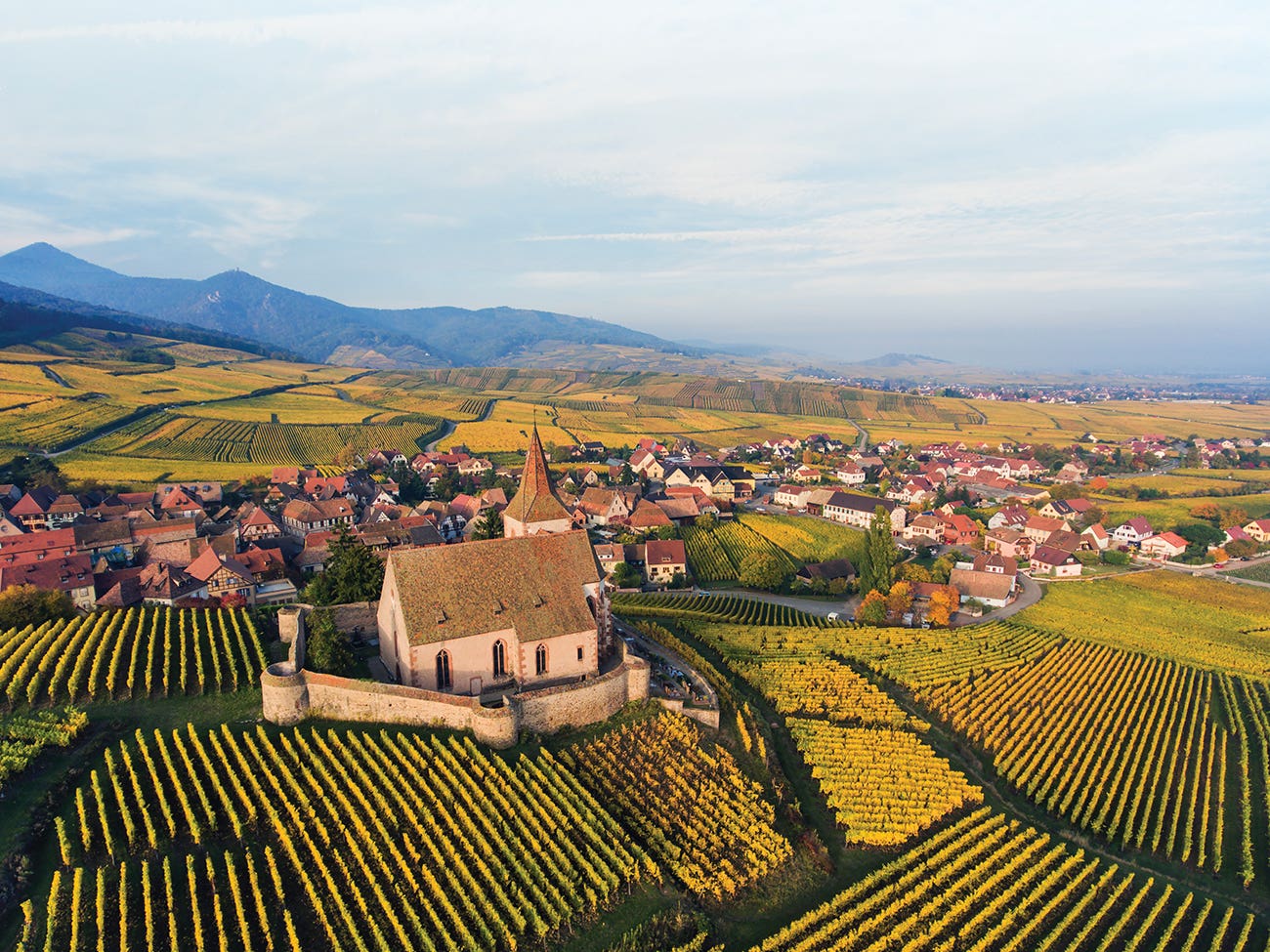 Stratification
A rather fascinating facet of the Alsatian world of wine lies in its diversity of soils, as well as the amount of attention winemakers in Alsace pay to them. When you read the back label of certain vintages — especially ones ranking in the Alsace top 51, which tend to be located on well-defined and steep hillsides — the quality of the local soil and the orientation of the vineyard's slope are explained with precision and care. It's important to note that this mosaic of soils (limestone, shale of all kinds, granite, gneiss, sandstone, marl), which you can easily spot when you roam the hillsides, gives wines here their very unique characteristics.
For instance, the famous Clos Saint Hune, a Trimbach family operation for more than 200 years running, comes from a limestone-forward terroir overflowing with fossilized shells. The result is a Riesling that presents extremely specific structure and tension, perhaps at incomparable levels. Its location is very visible, just like the demarcation between great vintages. Sometimes, the colour of the rock changes radically from one vineyard to the next, which makes for wines with varying characteristics, round on one end and steely on the other. How varieties are allocated —Riesling over here and Gewürztraminer over yonder — puts this centuries-old, hard-won historical know-how into practice.
Foremost alsatian wines
Bubbly: Crémant d'Alsace

White:
Noble varieties: Riesling, Gewürztraminer, Pinot Gris
Friendly libations: Muscat, Pinot Blanc, Auxerrois, Sylvaner
Red: Pinot Noir
Versatile vino
When wine comes from a terroir that's as particular as it is varied and so loaded with history, there's nothing wrong with pairing it according to tradition with sauerkraut, flammkuchen (a flatbread-pizza hybrid made with onions, bacon and cream), or baeckeoffe (a sort of slow-cooked casserole). The liveliness and lovely aromatic notes of the region's whites go quite well with these generous and substantial dishes.
You can also push the pairing more or less forward with Muscat from Alsace and asparagus — a complex match if there ever was one. Riesling responds marvellously to salty seafood flavours, be it oyster or lobster, while Pinot Gris is a real joy alongside pork and poultry.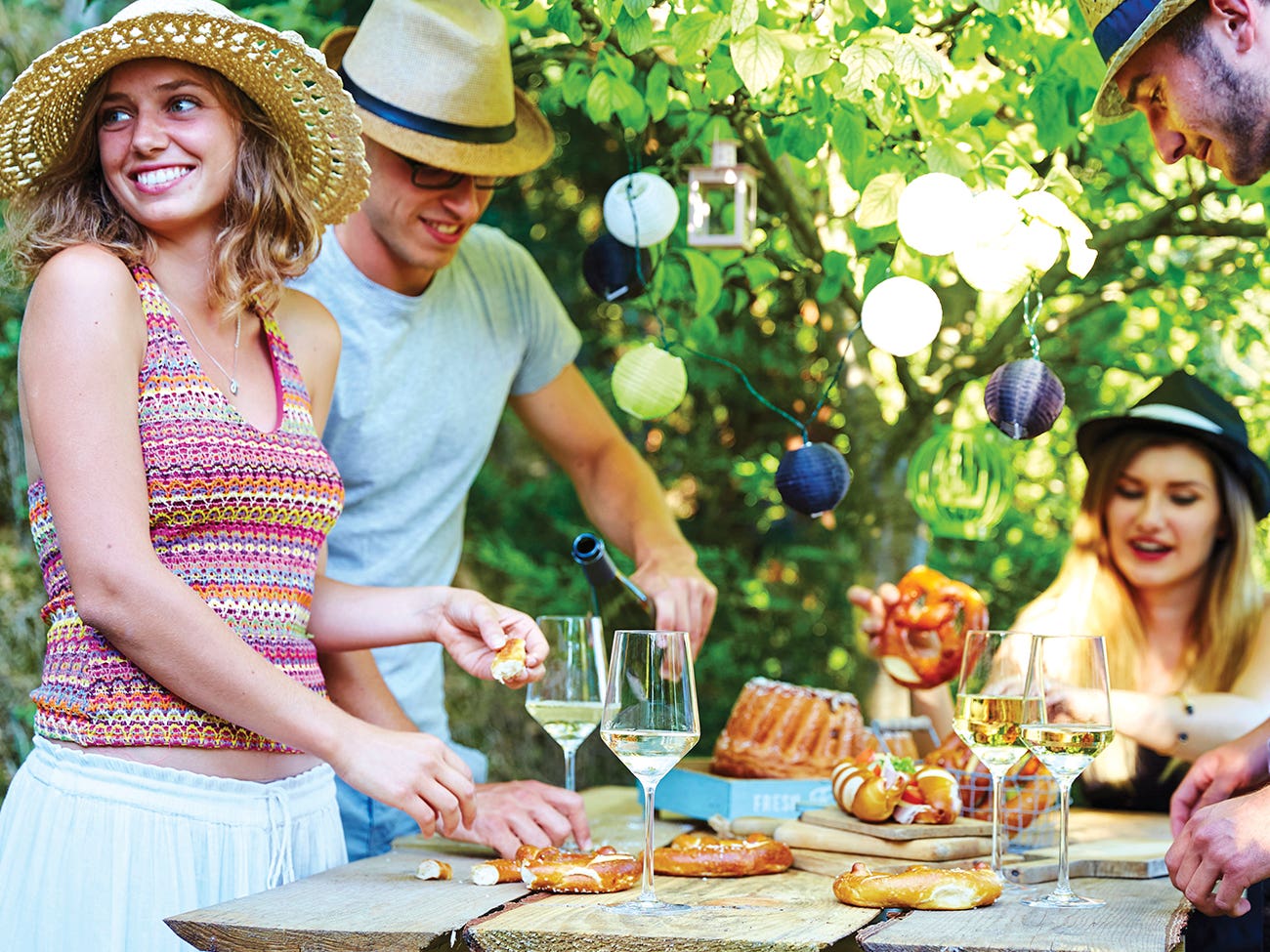 What's more, the spicy notes and richness of a Gewürztraminer or the aromatic roundness of a Gentil blend, for example, will go perfectly with Asian spices, especially from India (think curry). On their end, sushi or dishes such as Pad Thai prove to be excellent counterbalances to the sweet side of Alsatian wine. Proof you can be deeply rooted in terroir and keep your taste buds open to the world of food.
Recipe
Here is a recipe we recommend with a Riesling: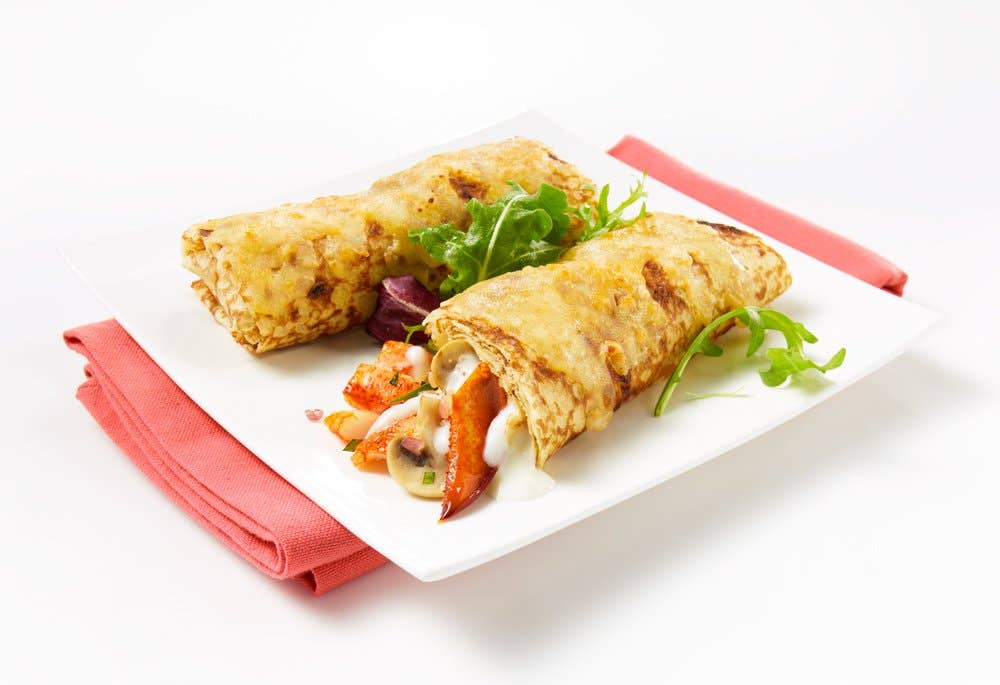 Preparation :20 minutes
Cooking: 15 minutes
Servings: 4 people
It's a long story
On top of having good taste and enterprising spirit, the people of Alsace also have a great sense of history. After all, winemaking here goes back to Roman times, and the first quality assurance regulations were implemented as early as the 14th century. At Hugel and Trimbach, two of the most well-known family operations in the region, they can retrace the establishment of their respective institutions back to 1639 and 1626. These family stories serve to strengthen ties to terroir and tradition. When vintners from these places are the twelfth, or even fifteenth, generation and the plots have been in the family for the last two centuries or more, they tend to harvest with an increased sense of continuity and a real concern for paying it forward.
History, however, doesn't stop at family estates. For example, the Eguisheim co-operative winery, responsible for the Wolfberger brand, was founded some 120 years ago. The importance attached to Alsatian co-ops, as well as the quality work they do, bears witness to the community spirit that powers the region's wine world.
Not available

Online

Available

In store

Available

Online

Available

In store

Domaine Barmès Buecher Trilogie 2020 White wine

|

750 ml

France

,

Alsace

Not available

Online

Available

In store

Available

Online

Available

In store

Not available

Online

Available

In store
Photos by: Tristan Vuano and Chez Elles