Born of the contraction of "breakfast" and "lunch", everyone is familiar with brunch, a meal that beckons friends and family to gather at the table midday for a casual repast. Whether you're eating dishes that have been meticulously prepared, or fast tasty bites, I'm a big fan of inviting Alsace to the table!
This versatile wine has everything you need to both charm and accommodate a brunch meal. It's no accident that this wine-producing region is referred to as 'charmed' so to speak.
Located in France's north-east, this region is not subject to the "continental climate" that others are—the nearby Vosages Mountain Range retains a good number of clouds, thereby letting Alsace enjoy loads of sunshine. Days of sun paired with cool nights mean that grapes ripen gently, ideal for the preservation of a thirst-quenching acidity that also magnifies the grapes' aromatic expression.
Alsace's grapes are known for their evocative profiles!
---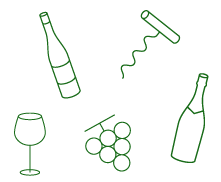 Since bubbly is welcome anytime (who could say no to bubbles!?) Alsace Cremant has a prominent place on the brunch table.
Did you know that close to a quarter of the region's production stems from this appellation? Cremants are often dominated by Pinot Blanc, so liveliness awaits your glass. These particular bubblies are made using traditional methods, and the aging of dregs lasts at least nine months. Due to their invigorating nature when "brut", they're perfect for toasts, or as a chaser for gravlax (smoked rainbow trout) on blinis.
When you think of Alsace, Riesling automatically comes to mind—after all, it's the region's reigning wine. Revealing notes of citrus, lime, and an unmistakable minerality, Riesling is above all a welcome addition to a table the features seafood or lean fish.
What to pair with bites that have salty and slightly sweet flavours? Pinot Gris, of course! Its discrete acidity and legendary roundness make it a perfect choice to accompany fruit and Viennese pastries, as well as cheeses and egg dishes made with asparagus and onions. Be careful when selecting a bottle though, as some Rieslings have more perceptible residual sugar.
Happy brunching!
Related posts
SAQ shelves are lined with more than 150 wines and spirits produced abroad and bottled here, a process that has a positive impact on the environment and workforce in the province.

Read more

In recent years, Prosecco DOC (Denominazione Di Origine Controllata) sales have dizzying new heights. Read on to learn more about the accessible bubbles adored the world over.

Read more

Bubbly's rising popularity has resulted in a wide variety of bottles to choose from. Here's a handy guide to finding the one that's right for you!

Read more