Skip the bottle
A lot of people think good wine only comes in glass bottles. Not true! There are actually excellent wines available in boxes and cans. Those of you who prefer mixed drinks can choose from a wide array of options. The huge advantage of these alternative types of packaging is that they won't break. For those who wish to drink good vintages, it is always possible to bring bottles of glasses!
Here are a few options that prove it's the contents, not the container, that matter!
Boxed in
Lighter, safer and more practical than glass, bag-in-box and carton wines are ideal for camping, especially since glass containers are prohibited on many sites. They keep your wine fresher longer—up to a few weeks—and are recyclable. The best part? No bottle opener required! Here are two low-sugar (less than 2 g/l) options to toast to your long hike.
Villa di Ponticello Pinot Grigio Delle Venezie White wine

|

3 L

Italy

,

Friuli-Venezia Giulia

Available

Online

Available

In store
Not available

Online

Available

In store
Can it
Let's not forget premixed cocktails, whose popularity speaks for itself. They're an easy-breezy alternative to mixed drinks and come in a range of combinations.
Discover our vast selection of made-in-Québec products with the Origine Québec, Préparé au Québec or Embouteillé au Québec label right here.
And don't forget cider! It's a great option for your outdoor apéro or dinner on the grill. From rosé to ice, sparkling and dry, there are so many ciders to choose from. Discover them here!
Know what also comes in a can? Wine! Why not try this rosé?
Around the campfire
After a day in nature, there's nothing better than relaxing by the campfire. While the kids toast marshmallows, treat yourself to a coffee cocktail! Try one of these recipes for your next hot brew:
Quick cocktails
It's always fun to play mixologist, but we recommend you keep things simple at the campsite. Bring basic spirits like vodka, gin and rum to create different drinks. If you're travelling light, look for smaller bottles of 375 ml (13 oz).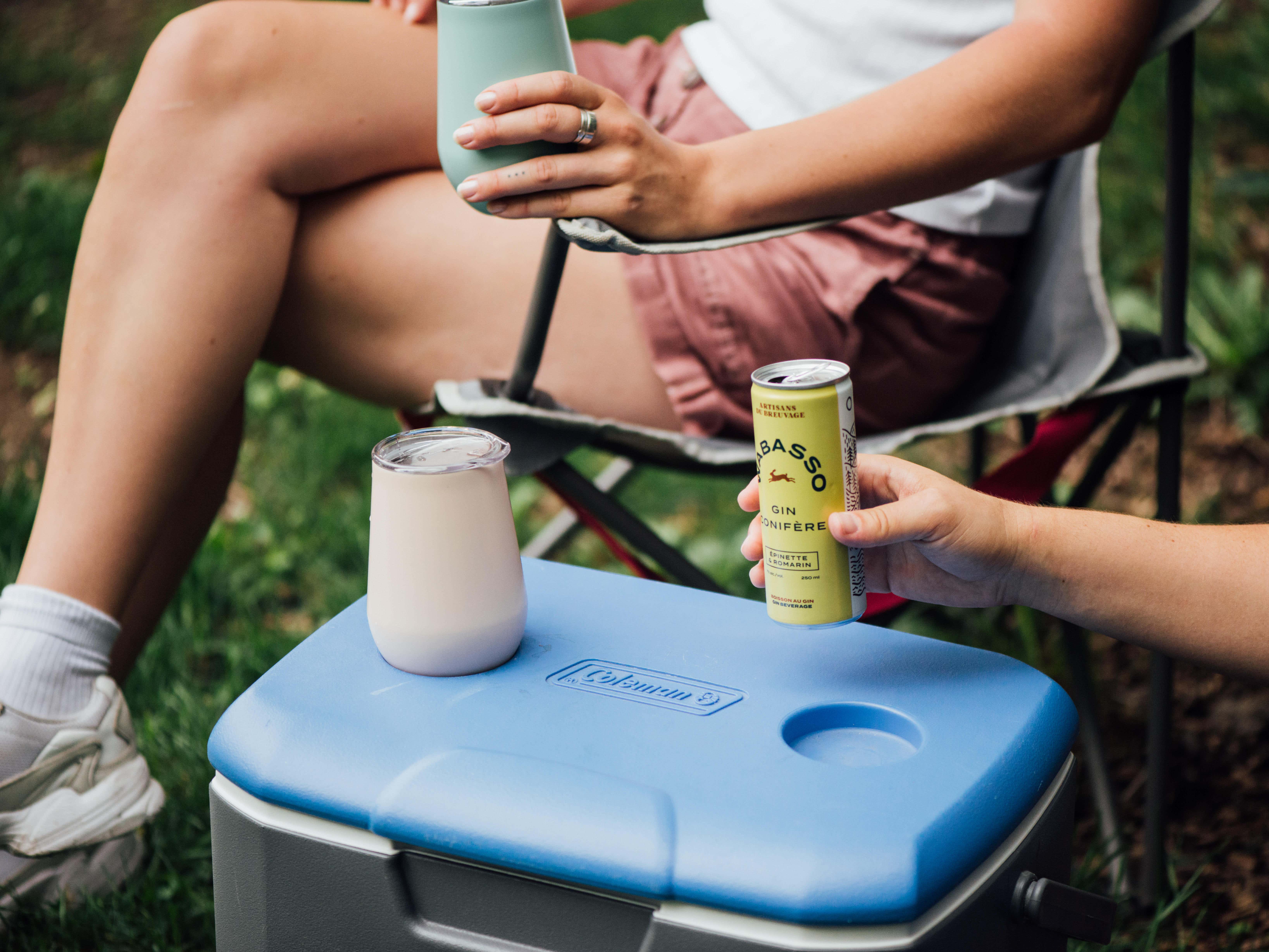 Keep it cool
Your cooler is definitely your best friend. Fill it with bags of ice to keep things chilled and have a few cubes for cocktails later. Bags of frozen fruit also work great. What should you drink out of? Insulated tumblers because they're so much more practical than glassware.
Enjoy the great outdoors!
Photo: Two Food Photographers