To end this year on a high note, let's all commit to celebrating Quebec producers by filling our tables and tummies with the fruits of their labour: root vegetables, turkey, pork, duck, cheese, trout, cranberries, maple syrup… everything you need to create a memorable, 100% local holiday feast!
What are we eating?
Amuse-bouches are always amusing for happy hour, n'est-ce pas? Keep it simple and treat the family to our rainbow trout rillette appetizers. Next, wow them with our recipe for perfectly cooked turkey drizzled with the most succulent of sauces, or tickle their taste buds with our pork roast stuffed with apples, cranberries, and roasted pistachios. Looking for a star side to crown your meal with? How about roasted Quebec veggies and raclette cheese? And finally, satisfy everyone's sweet tooth with a maple syrup naked cake topped with cranberry compote and mascarpone cream frosting. Now THAT'S a holiday menu that's 100% local and 100% delicious!
What are we drinking?
Holiday happy hour calls for bubbly all around! In addition to awakening the taste buds, sparkling wine is festive and the perfect way to spread the joy. Once seated at the table, we suggest serving versatile, refreshing reds. Bottles with the Fruity and Medium-bodied taste tag pair perfectly with poultry or pork. And for something a little out of the ordinary, uncork a Fruity and Medium-bodied rosé – the ideal accompaniment to roasted vegetables and cheese. For dessert, serve your maple syrup cake with Port or a maple-based spirit. Cheers!
A Belle Province punch
This welcome cocktail contains all the necessary ingredients to kick off the evening in style! Vodka, blackcurrant liqueur, and sparkling cider: the perfect holiday drink if ever there was one! Plus, when presented as a punch, your guests can serve themselves, which means you can spend more time prepping your dishes and less time playing bartender. Tip: Serve this party punch in a transparent pitcher rather than the traditional punch bowl.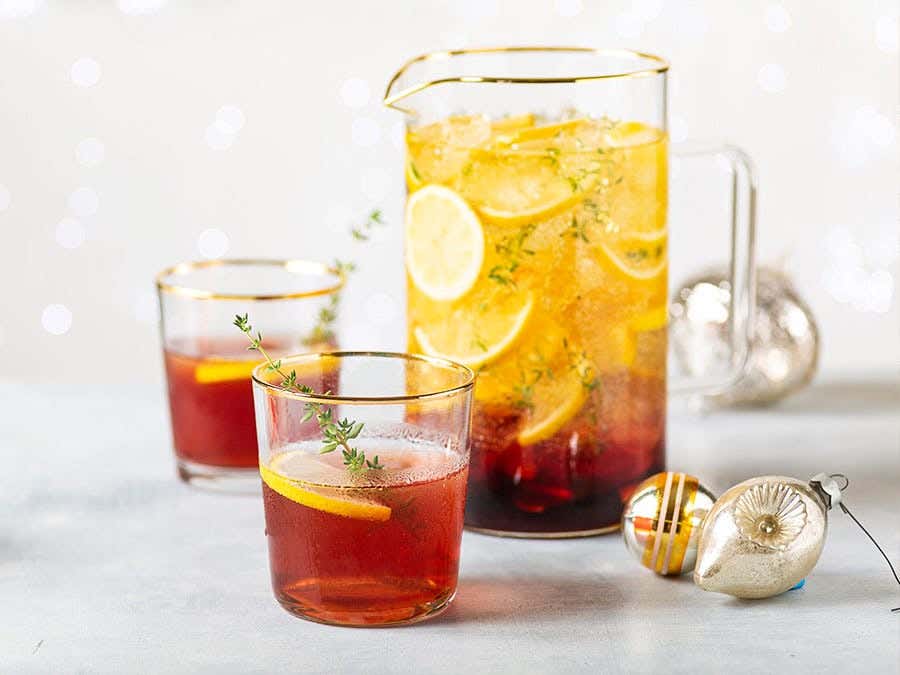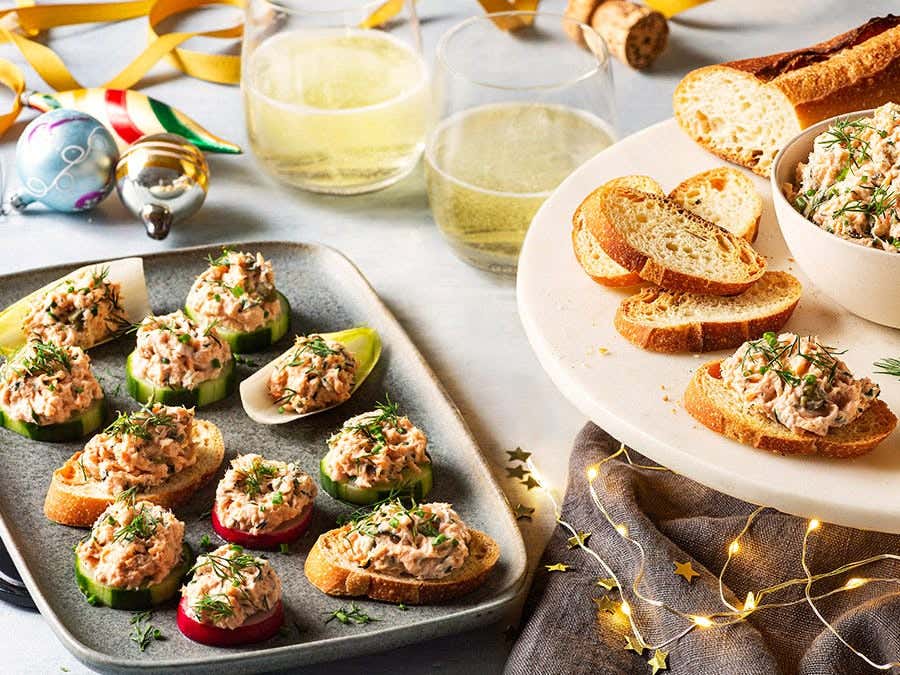 Rainbow trout rillette appetizers
Just as delicious as salmon, and less fatty, rainbow trout is a local fish that is sustainably farmed and available all year round. You can save time with this recipe by cooking your fish up to two days in advance: in the oven, drizzled with oil and seasoned with spice, or en papillote, with the herbs of your choice. When ready to serve, simply flake with a fork and combine the fish with the rest of the ingredients, for amazing appetizers your guests will love. The secret to successful rillettes? A thick texture with a generous helping of trout.
Plating and presentation
Once your rillette mixture is ready, it's up to you to decide what to serve it on – croutons, biscotti, toasted brioche bread, or blini. For a touch of freshness, serve your mixture on cucumber slices or atop endive leaves. For a colourful, chic presentation, top your canapés with salmon or trout roe.
What to drink with these trout rillettes?
Wines with the Fruity and Vibrant taste tag are an obvious choice when it comes to pairing with fish or seafood. These trout rillettes pair exceptionally well with Sauvignon Blanc, Pinot Grigio, and Riesling. The herb aromas present in most Sauvignon Blancs will really highlight the green onions used in this recipe, the liveliness typical of a Pinot Grigio will make the lemon shine, while the minerality common in a Riesling will complement the trout's saltiness.
If you're a fan of rosé, opt for a bottle with the Fruity and Light taste tag, for a pairing that is perfectly balanced and out of this world!
In the mood for some bubbly? Serve your trout rillettes with a glass of Cava, a Spanish sparkling wine that boasts an excellent price-quality ratio. Also from Spain, Albarinos from the Rias Baixas appellation are an equally great option.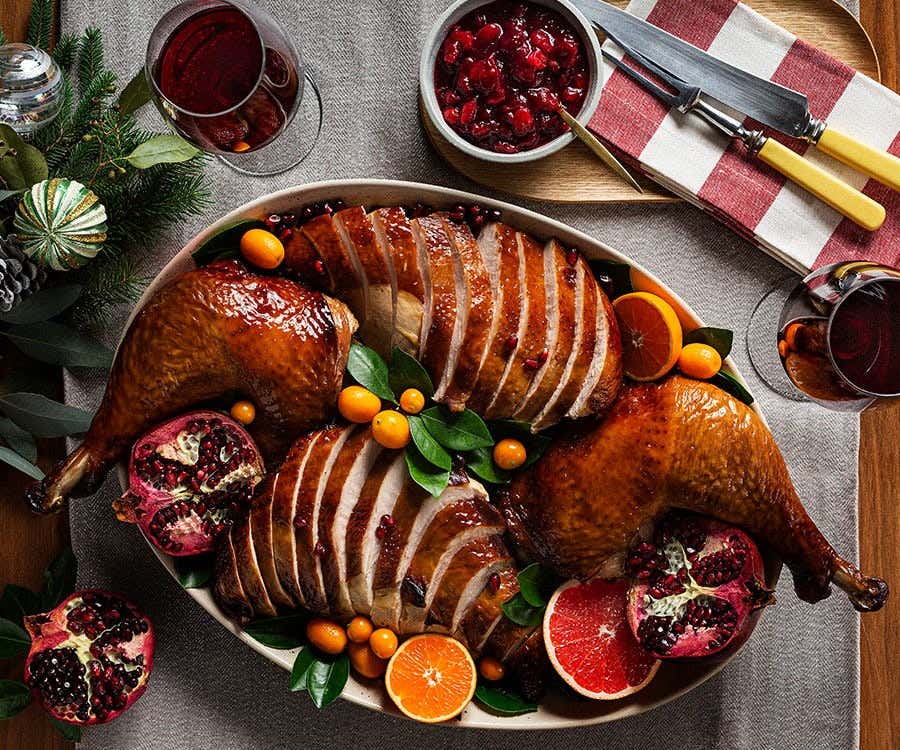 Perfectly roasted turkey and a succulent sauce to boot!
Get ready to cook the best turkey of your life, thanks to our top tips and ingenious tricks!
1) Brine. There are two types of brine: liquid and dry. Dry brining consists of rubbing the skin of your turkey with salt and aromatics, then placing it in the fridge for two or three days (depending on its size). Liquid brining involves submerging the poultry in water and salt for approximately six hours. Both these techniques result in tender, juicy meat.
2) Baste. For really tender meat, baste your turkey only during the final hour of cooking.
3) Use a cooking thermometer. The internal temperature of the breast should be 77oC (170oF) and that of the thighs 82oC (180oF). For stuffed turkey, make sure that the internal stuffing reaches 74oC (165oF). To help evaluate your cooking time, refer to a weight-based cooking chart.
4) Let rest after cooking. Once you've taken your turkey out of the oven, let it rest at least 20 minutes before carving it. This will allow the juices to evenly distribute throughout the flesh.
Express sauce
The secret to a successful sauce? The pan drippings. Using the drippings as a base, add fresh thyme, shallots, and a few candied garlic cloves. For a more sophisticated sauce, throw in some sautéed mushrooms and a splash of white wine or Port. For a thicker gravy, whisk in some flour or cornstarch. And finally, for a glossier gravy, stir in some butter before serving.
Yes to leftovers
Turkey is great, but leftover turkey is even better! Use your leftovers to make hearty sandwiches, soups, pies, patties, vol-au-vents, etc. And feel free to revisit some of the classics: club sandwiches, hot turkey sandwiches served on brioche bread, and pulled turkey chili.
What to drink with this roasted turkey?
When you think turkey, you think a Fruity and Light red with balanced acidity. A wise choice would be a Beaujolais, with its range of juicy Gamays. Wines from the Brouilly appellation boast a more robust structure, making them an ideal option as well. A little further north, Burgundy offers a selection of sublime Pinot Noirs, while a right-bank Bordeaux (where Merlot reigns) would also make an interesting pairing.
In the mood for an Italian wine? Consider a bottle from the Valpolicella appellation, or a Sangiovese from the sunny hills of Tuscany.
All these wines will hold their own at the table, without overpowering the delicate flavours of your poultry. So get ready to uncork a bottle and enjoy some quality time with your loved ones!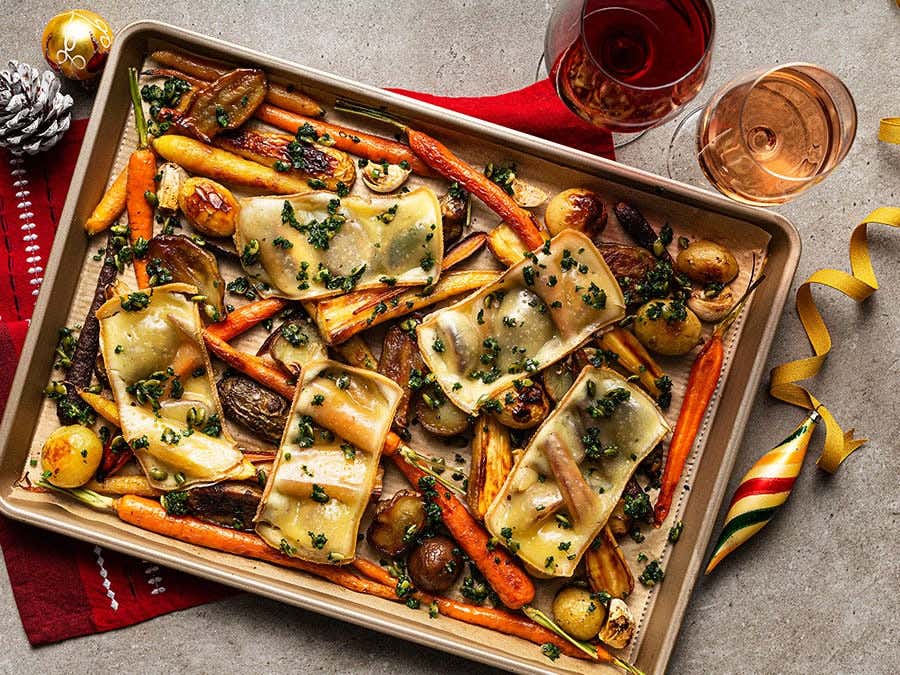 Recipes to warm you up
The holidays are the perfect time to take advantage of the joys of winter. After an active day spent snowshoeing or cross-county skiing, what could be better than sitting down to a meal of hot, comforting dishes? This year, add a new recipe to your repertoire: roasted root vegetables with raclette cheese. Hearty enough to be served as a main course (take it straight from oven to table and let everyone dig in!), and light enough to serve as a side with a crisp green salad.
Local veggies
For a local option this winter, consider stocking up on some of Quebec's tastiest root vegetables: beets, carrots, parsnips, turnips, cabbage, rutabagas, etc. Because winter can sometimes seem interminable, make sure to have a variety of delicious recipes in your arsenal –that way you're sure to never get bored! Looking for something new to try? How about some chef-inspired classics, such as carrot tarte tatin, beet carpaccio with goat cheese, celeriac cannelloni stuffed with mushrooms, artichoke chips, or honey-glazed turnips with rosemary?
What to drink with these root vegetables and raclette cheese?
This festive dish begs to be paired with a bright and vibrant wine. Two options stand out from the rest: a Fruity and Medium-bodied rosé, or a crisp and balanced red with vegetal notes. Such reds include Cabernet Francs from the Loire appellations of Chinon and Bourgueil, or Cabernet-Sauvignon blends from the region of Bordeaux.
Are you a fan of fruity reds? Let yourself be charmed by a bottle of Beaujolais-Villages. An appellation that is both affordable and refined.
Roast of pork and apple stuffing
Quebec pork is internationally renowned for its top quality and incredible taste. Plus, it's readily accessible to all. Its price-quality ratio and versatility in the kitchen make it the ideal choice for this year's holiday menu! Traditionally, pork is used to make much-loved classics, like meatball stew and minced pie, but this year, why not try something new? We have a mouth-watering recipe for roast pork stuffed with apples, cranberries, and pistachios. Dig in – Christmas dinner is served!
Starring apples
Did you know that Quebec apples are available all year round? That's right – thanks to specific storage techniques and controlled atmospheres, certain varieties, such as McIntosh, Cortland, Empire, and Spartan are sold in grocery stores 12 months out of the year. This popular fruit makes for a great addition to your holiday stuffing; it pairs nicely with sausage, bread, raisins, rum, pecans, and sage.
Cooked to perfection
For tender, juicy meat, apply a dry rub to your pork and let rest for at least 12 hours. Next, sear your roast over high heat on all sides to form a protective barrier to seal the juices. Continue cooking in the oven until the internal temperature reaches 52oC (125oF). Remove from the oven, cover with aluminum foil, and let rest 15 minutes.
What to drink with this apple-stuffed roast of pork?
This apple-stuffed roast of pork deserves to be paired with a local libation: cider! Opt for a strong cider able to hold its own against the dominant rosemary aromas in this recipe, while still highlighting the fresh apple flavours. Quebec apples in your plate AND in your glass – doesn't get more local than that!
For a more classic pairing, opt for a medium-bodied red. Quebec reds, as well as Chianti, Languedoc-Roussillon, or Morgon appellations from the Beaujolais region are all excellent choices. And you simply can't go wrong with a wine from the Fruity and Medium-bodied taste tag.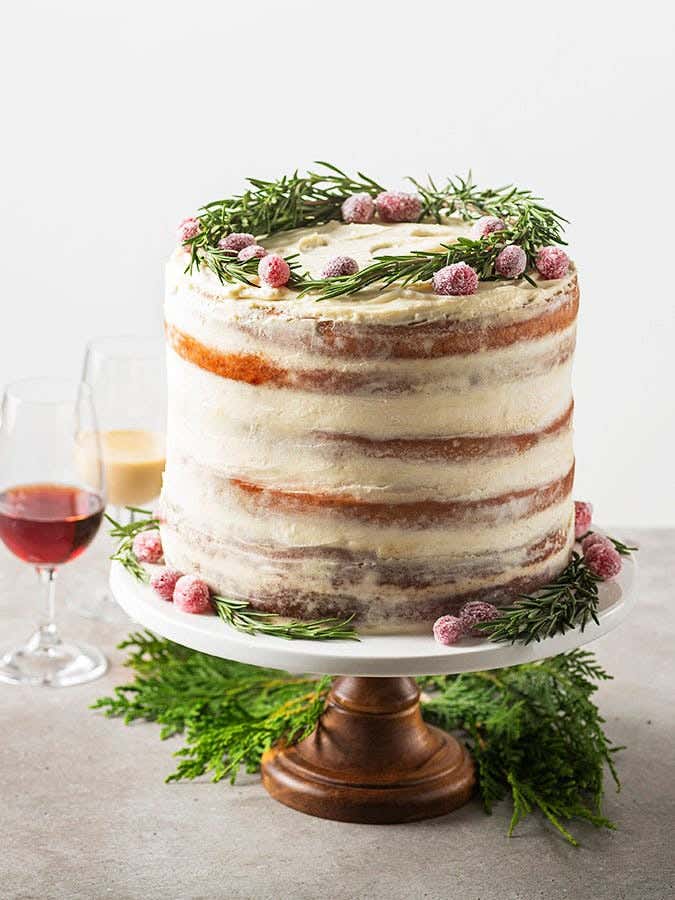 Beauty in simplicity
Chances are you've seen the majestic and elegant naked cakes trending on social media lately. These luscious layer cakes are served with little or no frosting on the sides. In lieu of decorations, a few simple, natural elements are artfully arranged on the cake: fruit, delicate leaves or flowers, etc.
Canneberges givrées
For a simple, yet oh-so-chic décor idea, try frosted cranberries! To make them, simply bring 100 g of sugar and 100 ml of water to a boil, then remove from heat. Once your syrup has cooled, pour it over 100 g of cranberries and set aside for at least 1 hour. Next, remove the cranberries from the syrup and roll them in sugar until thoroughly coated. Let dry on a parchment-lined baking sheet for 12 hours. Tip: You can prepare your frosted cranberries in advance and store them in an airtight container for a few days.
What to drink with this maple syrup naked cake?
The maple syrup used in this recipe immediately points us in the direction of an aromatic tawny Port. Such Ports are aged in wooden barrels, lending them a woody, spicy, and very suave flavour profile, perfect for accentuating this cake's seductive aromas.
A maple-based cream liqueur would also be a great choice. The creamy texture will recall the smooth mascarpone frosting, for a dreamy mouthfeel that'll have you and all your guests asking for a second slice.
Organization 101
To save on time, you can make your maple syrup cake in advance and freeze it until the day of. You can also make the cranberry compote up to two days in advance. The day of your get-together, simply thaw and cut your cake layers, spread your cranberry compote between each layer, assemble, and add a thin layer of frosting. Finally, garnish with a few understated toppings and serve!