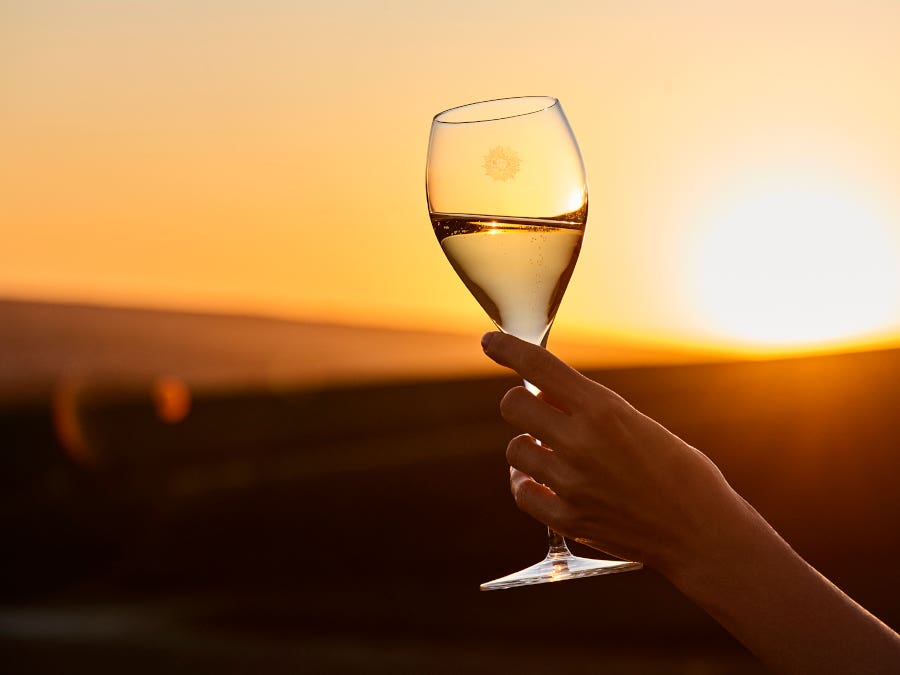 The spirit of Laurent
To taste Laurent-Perrier is to commune with the spirit that has driven this Champagne house since its founding in 1812. Bold and innovative, its managers have shown over the years that they are also committed to preserving the tradition of wine in Champagne. The spirit of Laurent-Perrier also governs the proven mastery of the science and art of blending, thanks to which his cellar master manages to create a range of unique cuvées. Due to the large proportion of Chardonnay in its cuvées, the house offers enthusiasts elegant, refreshing wines of great persistence in the mouth. Both as an aperitif or at the table, the house champagnes are sure to create magical moments filled with pleasure and conviviality.
Available

Online

Available

In store
Laurent-Perrier La Cuvée Brut
This is an excellent introduction to the Laurent-Perrier style. The champagne is mostly made of Chardonnay, resulting from a masterful blend, and with a good proportion of reserve wine to ensure perfect consistency from vintage to vintage. Low in dosage, La Cuvée Brut is set apart by its balance, freshness and elegance.
The vibrant Cuvée Brut is perfect before dinner. Its notes of citrus and contained, subtle effervesce also make it an excellent pairing for fish and poultry dishes.
Available

Online

Available

In store
Laurent-Perrier Cuvée Brut (rosé)
Introduced in 1968, La Cuvée Brut Rosé was the first rosé champagne made only from Pinot Noir. Born from some of the best Champagne vineyards, including the famous Côte de Bouzy, the Cuvée Brut Rosé is recognized for its consistency and quality. Its aromas of fresh red fruits, the intensity of its flavours, its great freshness, all of which have made rosé champagne one of the house's essentials.
You can enjoy the Cuvée Brut Rosé on its own, as an aperitif. But it also shines at the table, for example paired to grilled shrimp, cured fish, grilled shrimp and exotic cuisines.
Laurent-Perrier Cuvée Grand Siècle Itération No 24 Brut
If we had to name a flagship champagne within the Laurent-Perrier range, it would be the Cuvée Grand Siècle, without hesitation! The house has taken the art of blending to the point of "creating" the perfect year, so to speak. Grand Siècle is indeed the only prestigious cuvée to be based on a combination of various great vintages. The result: a sum which exceeds the total of the parts, an exemplary balance and a remarkable persistence, recognized by the greatest tasters.
At the table, shellfish will provide an excellent gourmet pairing. Grand Siècle will also unveil all its splendor as an aperitif. Tasting it slowly will then highlight its complexity and finesse.
Laurent-Perrier Ultra-Brut Champagne

|

750 ml

France

,

Champagne

Not available

Online

Available

In store
Laurent-Perrier Ultra-Brut
Another first for Laurent-Perrier, created in 1981: a champagne without added sugar. The cuvée is aged at least six years, and combines Pinot Noir with Chardonnay– predominant here, just like all other white wines sold by the house. Thanks to the crus that make up its composition and the selected grapes, with this Ultra-Brut Laurent-Perrier manages to deliver a very harmonious non-dosed champagne.
Ultra-Brut is very versatile at the table. We can think for example of sushi (delicious pairing!), seafood, white fish ceviche and even a young Parmesan.
In partnership with Champagne Laurent-Perrier