Getting your attention
When choosing your next bottle, or your next travel destination for that matter, set your sights on Austria. The country is known for its great quality of life, a characteristic that is reflected in wine production. Totally unpretentious yet qualitative, Austrian wines are gaining in popularity, and fast, among critics and customers alike. Bottles may don fun, highly recognisable labels but don't be fooled; the content is serious stuff.
Flying over Austria
Set in central Europe, Austria is nestled in a transitional zone that is mid-way between the Atlantic and continental climates. Summer and fall are graced by warm days and cool nights with northern winds. This unique geographic setting plays a huge part in the wines' development and is responsible for their fine and fresh character, along with the tension that sets them apart. Although it is located on the same parallel as Burgundy's famous vineyards, there is a decidedly something more light-footed about Austrian wines.
Old and New
Many Austrian estates have been around for centuries, and are still family-run today. Their quality and strength come from this great balance of long-standing tradition, along with a good dose of modern technology.
Austria is also home to a young and bold generation of winemakers, shaking things up both in style and methods, with a high and increasing penchant for organic farming. In fact, 22 % of Austria's total vineyard is cultivated organically1.
With this, Austria plays a leading role on the world stage. 1,444 ha (15 %) of all organically cultivated vineyards are farmed biodynamically2. 8,808 ha (20 %) of the area under vines has been certified as sustainable, while the rest is predominantly being cultivated according to the precepts of integrated viticulture3.
Feeling Grü-Ve
One of the most important indigenous varieties of the country is the Grüner Veltliner, aka Grü-ve. It can deliver various styles of wines, but its popular renditions are usually crisp and fresh, with notes of lime and grapefruit. If you're a fan of Sauvignon Blanc, this variety is right up your alley.
The number of wines made from this grape has exploded in past years on our shelves, and with good reason. It has that coveted freshness and makes for a great aperitif, but also lends itself to a host of pairings, including seafood. Since crab and lobster season is right around the corner, not to mention terrace time, we'd say 'tis the season to give these wines a go.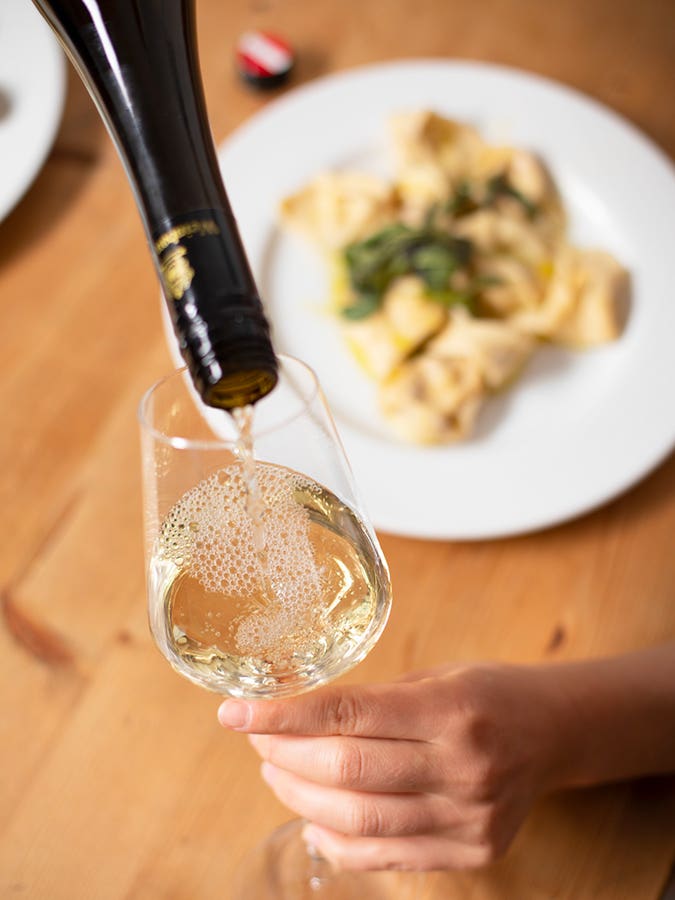 6 Austrian white wine suggestions perfect for spring

Available

Online

Available

In store
Made of the famous Grüner Veltliner grape. Offers bright acidity and aromas of coriander, Granny Smith apple, honeydew melon and lime. Perfect paired to a Greek salad or seafood appetizers.

Meinklang Kontakt 2022 White wine

|

750 ml

Austria

,

Burgenland

Available

Online

Available

In store
Organic, natural and orange, oh my! If you haven't tried this cuvée yet, now is the perfect time. Offers aromas of mandarin, melon, ripe apple and spice.

Available

Online

Available

In store
Another great Grüner Veltliner! Offers maximum freshness due to a unique passage in stainless steel vats. Vibrant, mineral, fruity, it's easy to approach. Perfect as an aperitif and to highlight fish, seafood and cheese recipes (goat cheese, feta).

Weszeli Felix Niederösterreich Grüner Veltliner 2022 White wine

|

750 ml

Austria

,

Niederösterreich

Available

Online

Available

In store
With an expressive minerality both on the nose and the palate, this Grüner Veltliner is a delicate wine whose notes of green apple and lime give personality to a set that does not lack pep! Nice work from this Austrian estate located not far from the city of Langenlois. Davis Weszeli keeps a long family tradition alive that goes back to 1679.

Crazy Creatures Grüner Veltliner 2022 White wine

|

750 ml

Austria

,

Niederösterreich

Available

Online

Available

In store
A fun and crowd-pleasing cuvée from one of Austria's most respected estates. Also made of Grüner Veltliner, from the Crazy Creatures selection. Beautifully biting, it offers charming minerality, citrus and spice notes. Amazing with crab cakes and sushi.

Forstreiter Gruuner Niederosterreich 2022 White wine

|

750 ml

Austria

,

Niederösterreich

Available

Online

Available

In store
Another zesty white made of Grüner Veltliner. It offers aromas of white pepper and lime zest along with plenty of minerality and acidity. Has seafood written all over it.
Nothing but love
Clearly Austrian wines are a big hit! All these products have earned 4 stars and up along with great reviews from fellow customers. So, go ahead and give them a go, and let us know what you think in each product page. Cheers to spring!
In partnership with Austrian Wine.
1 Source: Federal Ministry for Agriculture, Forestry, Regions and Water Management, as of March 2023
2 Source: associations respekt-BIODYN and Demeter Austria, as of March 2023
3 Source: Austrian Winegrowers' Association, qualifying date: 15 October 2022
You may enjoy
Make a delicious salad, serve it in a glass or beautiful bowl, and presto — you've got yourself a beautiful, simple summertime dinner!

Read more

To kick off your vacation, what's better than a seafood-inspired menu, paired with a glass of bubbly or refreshing cooler!? When you want to take things easy, stick to simple recipes that can sit in the middle of the table for all to share!

Read more

The arrival of spring necessitates celebration. To welcome the return of the warm weather, we've come up with five pairings that put our favourite seasonal products in the spotlight.

Read more