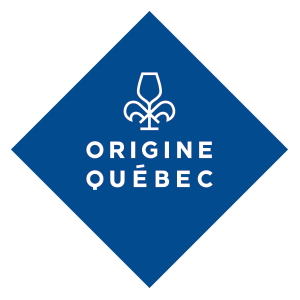 A name. A passion.
Now there's a catchy name—intriguing, even: Vignoble du Marathonien ("Marathoner's Vineyard"). But where does it come from? That's the first question that popped into my head. And my guess is, I'm not the only one to ask it. It was in the hopes of solving this mystery that I met with Jean and Line, who started the winery several decades ago.
"First off, we didn't want to put our names on the winery. But Jean happens to run marathons, and it turned out that becoming a winemaker 30 years ago took as much commitment and determination as training for a marathon. So, that's the story behind the name," Line said, smiling.
A family affair
There was an exuberance in the air when I arrived at the vineyard on a sunny October morning. It was grape-harvesting and apple-picking time, and there were lots of people buzzing around the property. After speaking to some of them, I quickly realized that sisters, brothers, nieces, nephews, children, and even grandchildren were on site for the special event. Jean and Line's eldest son, Jean-Luc, told me that for him and his three siblings, the winery has meant 30 years of evenings and weekends spent with their parents—and they hope to continue for many more! I also learned that when they founded the winery, both Jean and Line had full-time jobs. Only when they retired were they able to focus all their energy on it.
"My father always told us, 'The winery couldn't sustain one family—it certainly can't sustain four. It's important that you all find good jobs." So, on one hand, we look forward to retiring so we can take over, but on the other, we're in no hurry to grow old!"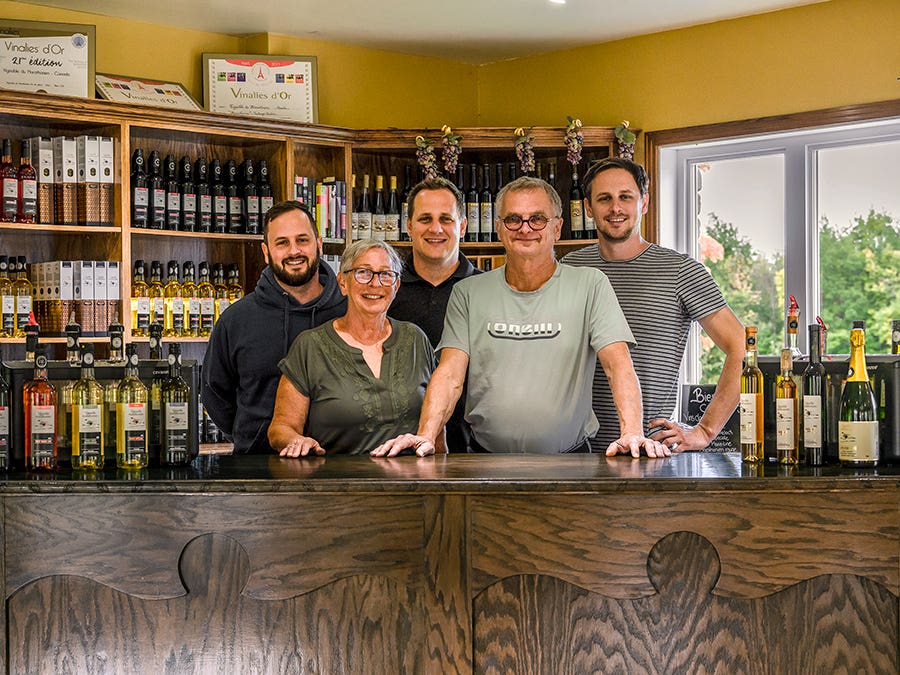 A world-class reputation
Jean and Line are proud to have produced Quebec's first-ever ice wine. What started as an experimental harvest that yielded 30 litres in 1994 has given rise to award-winning products sold around the globe. Products that include their famous ice wine, which alone has garnered more than 70 international awards—I couldn't wait to try it! One taste and it was clear that its reputation was well deserved. Notes of dried apricot, honey and caramelized pear. Full-bodied with a smooth, crisp mouthfeel. A pure delight.
Vignoble du Marathonien is an ideal spot to taste wines in a warm and inviting ambiance, surrounded by vines and an orchard, in the shade of a centuries-old maple tree. You'll want to go back again and again!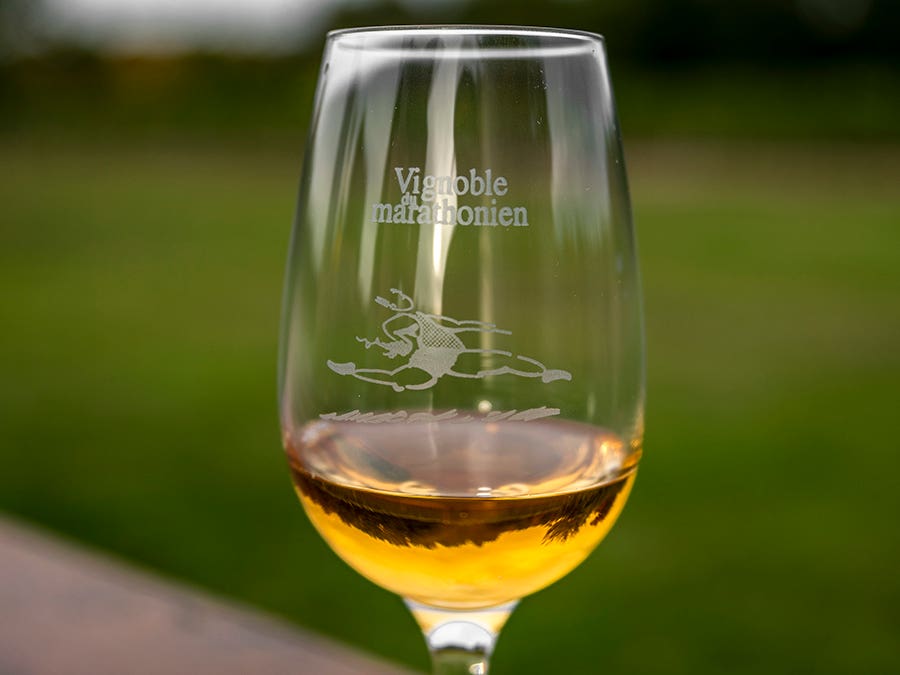 Discover Vignoble du Marathonien's products
In the heart of Saint-Paul-d'Abbotsford, a charming village in Montérégie, David Guertin and his associates at Les Artisans du Terroir work tirelessly to create authentically Quebec wines, including Prémices Blanc, their most popular vintage.

Read more

Somewhere in Saint-Armand, in the Eastern Townships, there's a gorgeous road lined with tall trees that leads to a wooden building at the heart of Domaine du Ridge. I recently had the pleasure of visiting this agritourism hot spot, which is also one of the most well-known vineyards in Quebec.

Read more

On the road up to Mont Ste-Anne, just past the bridge to Île d'Orléans, I discovered a hidden gem—the Domaine l'Ange Gardien vineyard. Here, you can savour a glass of Côte de Beaupré and meet the friendly and knowledgeable winemakers. You'll be charmed in no time!

Read more