Star salad
Forget about "creamy or traditional", this Asian coleslaw is bursting with colours and flavours! A combination of green cabbage, purple cabbage and kale, and topped with a delicious peanut butter, sesame oil and ginger vinaigrette? Yes, please! Serve it as a side dish or make it the main by tossing in some grilled chicken, shrimp or tofu. The added bonus? Cabbage's long-lasting crisp texture makes it the ideal salad ingredient for any picnic.
Discover eco-essentials for a perfect picnic
Make it your own!
You can easily personalize this recipe using your fave ingredients (or whatever you have lying around). Toss in some shelled edamame, sliced radishes, red peppers, snow peas, chopped cashews, sesame seeds or dried algae. If you can't find crispy noodles at your local grocery store, swap in ramen noodles (the instant soup kind). Easy as 1, 2, 3!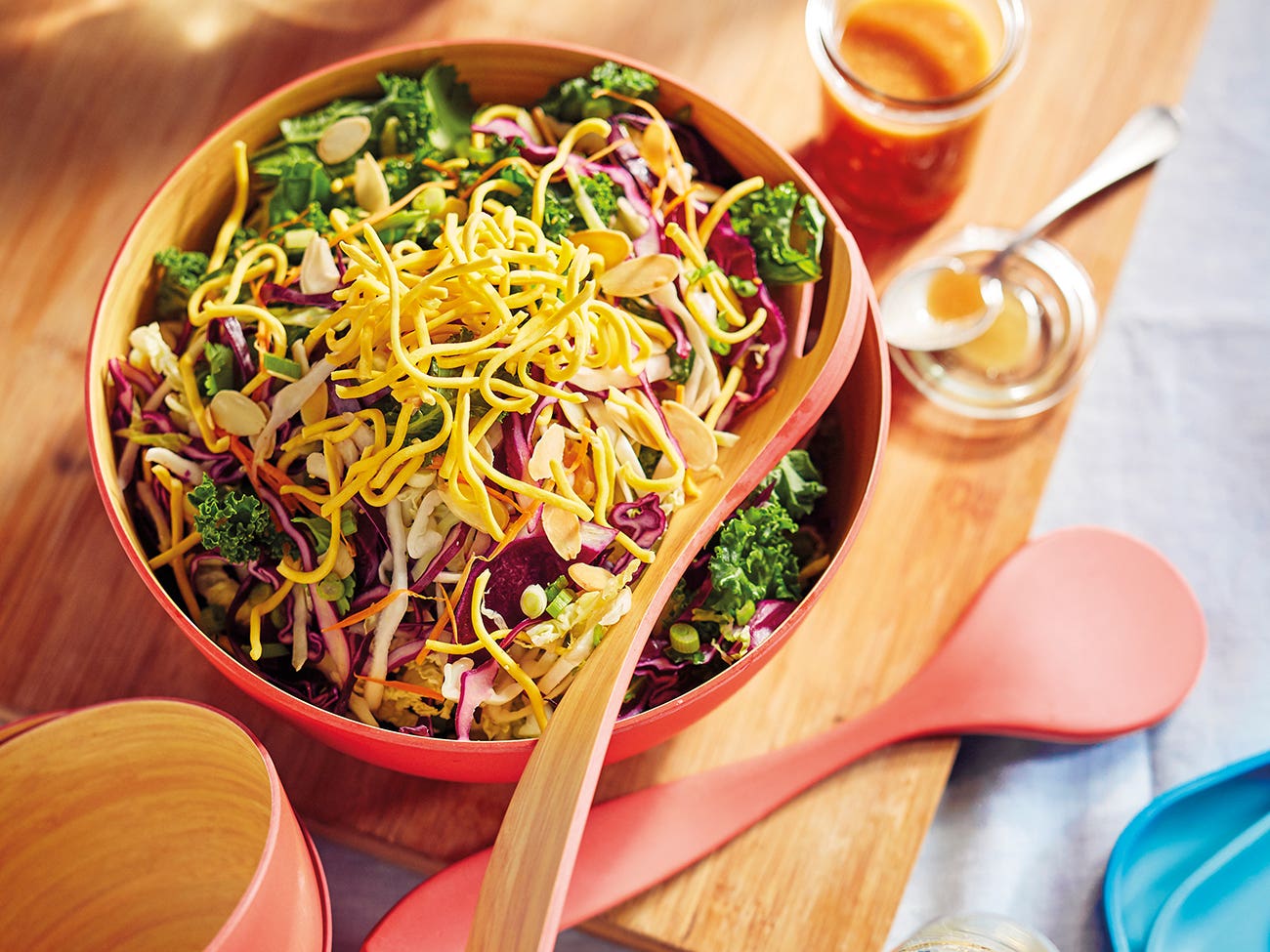 Asian cabbage salad
Preparation: 30 minutes
Cooking: 15 minutes
Cost per serving: environ 4$
For 4 to 6 people
What to drink with this asian salad
To highlight the recipe's Asian flavours, we suggest a very vibrant, very aromatic white. Bottles with the "Fruity and Vibrant" taste tag are ideal — they exude delicate floral notes and a dryness that will pair beautifully with the exotic ginger notes of this salad. Another suggestion? A Pinot Gris with the "Fruity and Sweet" taste tag will really elevate the dish's sweet side. Or try a medium-dry white from Alsace. It's perfect to pair with the crunchy almonds and creamy peanut-butter-and-honey vinaigrette.
Available

Online

Available

In store

Available

Online

Available

In store
Available

Online

Available

In store
Photos: Maude Chauvin and David De Stefano (recipes)