Star salad
Forget about "creamy or traditional", this Asian coleslaw is bursting with colours and flavours! A combination of green cabbage, purple cabbage and kale, and topped with a delicious peanut butter, sesame oil and ginger vinaigrette? Yes, please! Serve it with whites of the Fruity and vibrant taste tag that will pair beautifully with the exotic ginger notes of this salad. Or try a white of the Fruity and sweet taste tag that will really elevate the dish's sweet side.
Suggested pairing
Domaine L'Ange Gardien 2018 White wine

|

750 ml

Canada

,

Quebec

Available

Online

Available

In store
A refreshing cold soup
Summer is the perfect time to enjoy gazpacho. Combining tomato's natural acidity to the freshness of the other ingredients, it will be perfect with vibrant and refreshing whites such as those of the Fruity and vibrant taste tag or Fruity and light rosés. Premixed cocktails such as a Caesars will also be great, the Clamato and tomato being in perfect harmonyé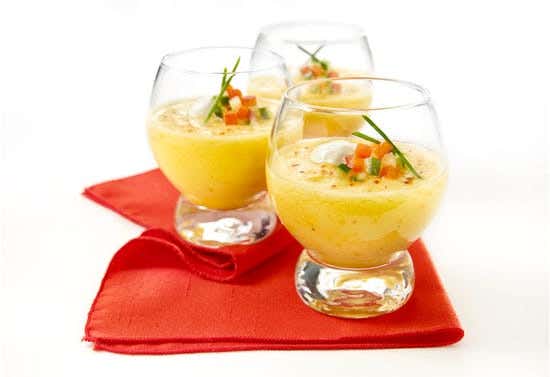 Yellow tomato and vodka gazpacho in verrines
Preparation: 15 minutes
Cooking time: none
Servings: 4 to 6
Domaine St-Jacques 2020 Rosé

|

750 ml

Canada

,

Quebec

Not available

Online

Available

In store
The perfect sandwich
Smoked salmon and cream cheese is a classic duo loved by all! For a touch of freshness, add some herbs and lemon zest to your cream cheese. When it comes to choosing your bread, opt for rye-based bread, such as pumpernickel – it's delicious with a slightly sweet flavour and dense texture. Serve this sandwich with a glass of Delicate and light white wine that will accentuate the recipe's freshness.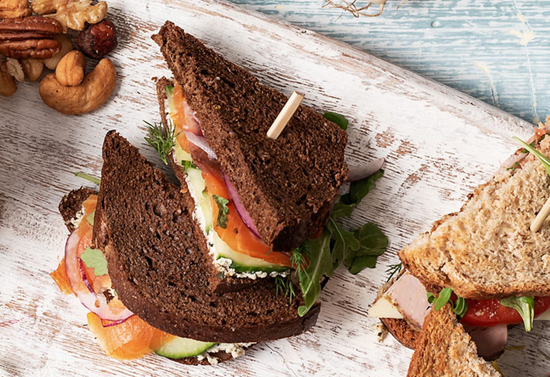 Smoked salmon sandwiches with herb and lemon cream cheese
Preparation: 10 minutes
Cooking time: none
Servings: 4
Suggested pairing
Photos: Maude Chauvin and David De Stefano (recipes)