Armed with bottles of local wine that I chose based on flavour pairing theory, I invited two colleagues—a photographer and a producer—to come dine with me and act as my guinea pigs. We visited Érablière Meunier in Montérégie, where my instincts as a sommelier were put to the test!
With a traditional sugar shack meal, the main challenge is that there's a multitude of dishes to pair your wine with. To ensure a satisfying experience, the sweetness and richness of the food should be balanced with a vibrant wine. That way, everything won't seem as heavy! Due to our cold climate, Quebec wine naturally has that pronounced acidity you're looking for. With that being said, it was time to put my theories to the test!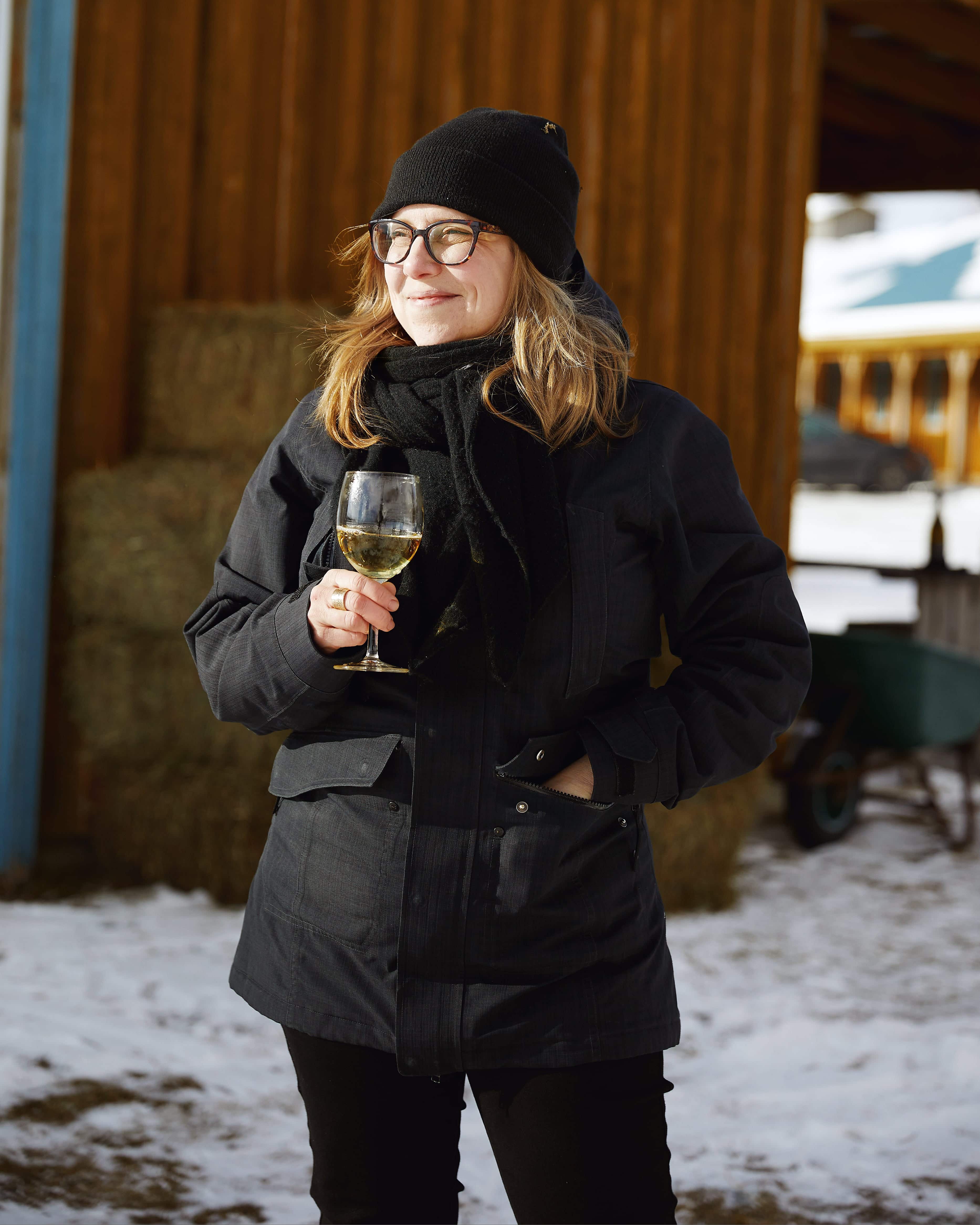 An aperitif to whet the appetite
Nothing beats a sparkling wine or cider to get your taste buds going. I started us off with an organic canned cider from Domaine Lafrance. It was perfect for sipping under the springtime sun as we hung out by the pig pen while waiting for the stragglers in our party! This dry and refreshing bubbly cider with organoleptic qualities was perfectly appropriate for our visit. It was a fun way to start the afternoon!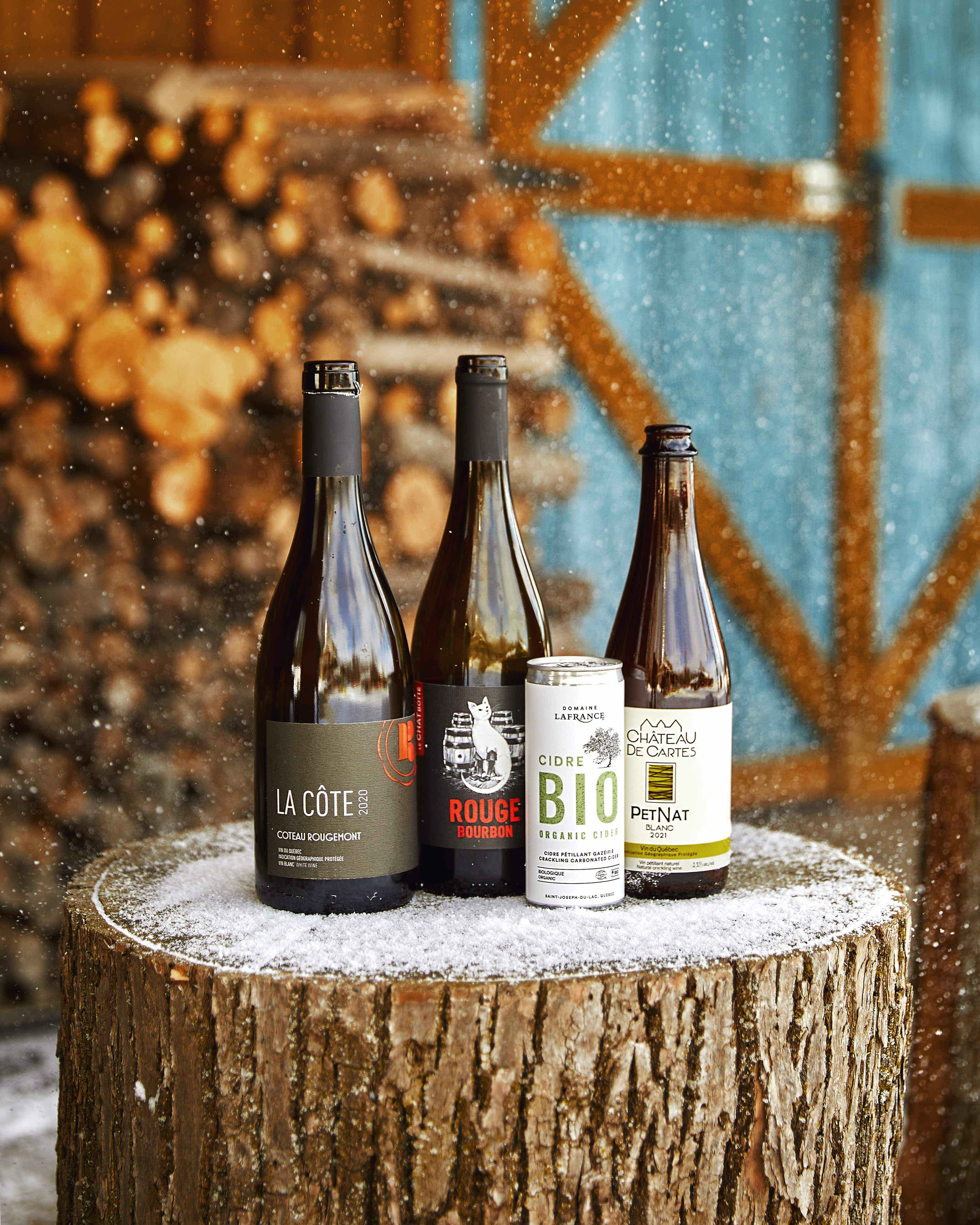 First course: A few starters
First course: pea soup, homemade bread, cretons and pickled vegetables. To accompany these traditional appetizers, I went with some naturally sparkling wine—called "PetNat"—from the Château de Cartes vineyard. Made with Sabrevois and Frontenac gris hybrid varietals from Quebec, this bubbly has all the freshness you need to complement the pea soup in particular. It's a great textural pairing because the wine lees echo the consistency of the soup. Sipping such a bright and refreshing sparkling wine really got the appetite going. Good thing, too, because there was more food on the way!

Team's feedback: Everyone enjoyed the PetNat, saying it was robust and very appealing. What a relief! My credibility was no longer in question and my fellow diners were starting to trust me. Onward and upward!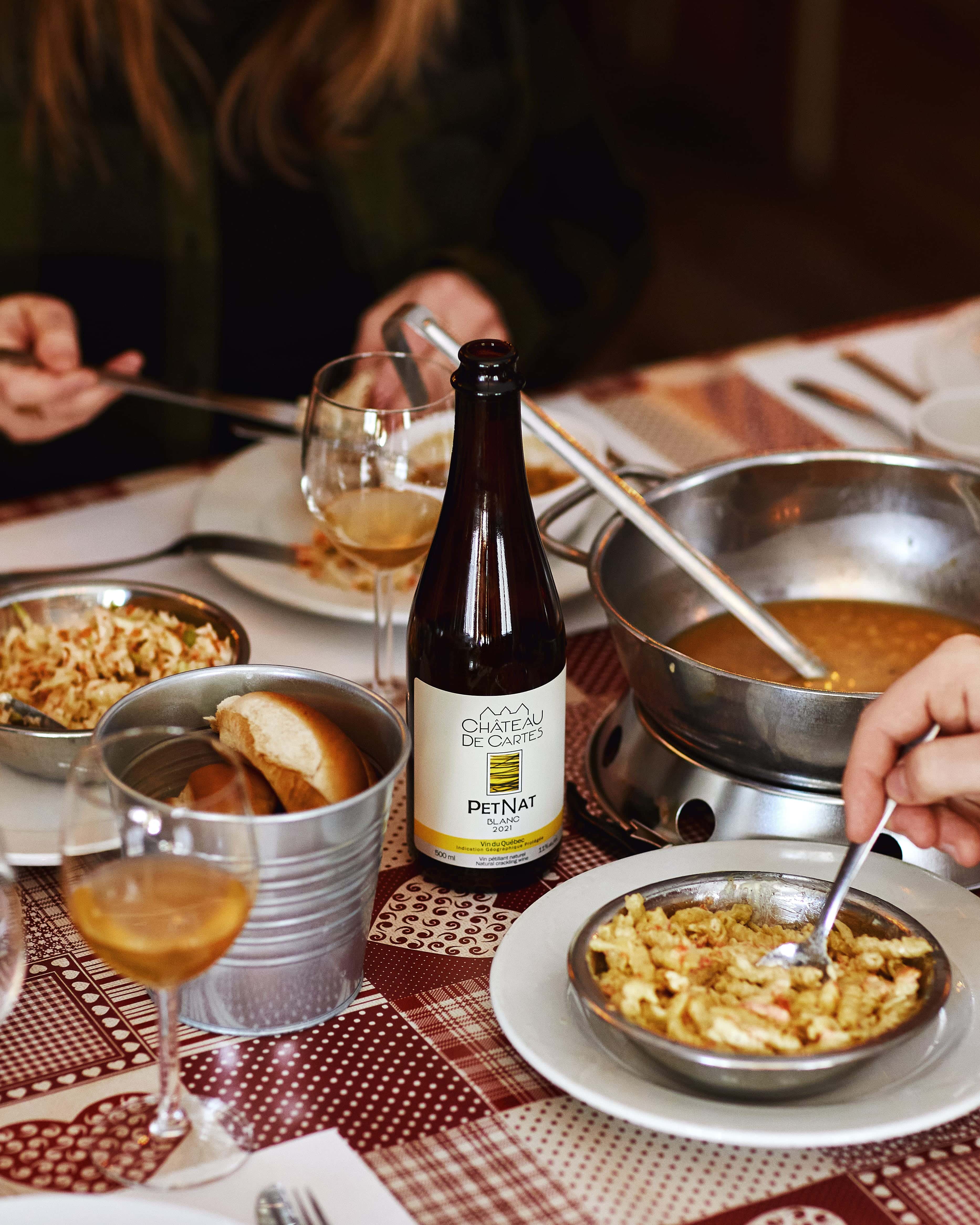 Second course: Hearty mains with two choices of wine
The second course brought us sausages in syrup and some maple ham, among other protein dishes. We also had traditional crispy pork rinds (the best I've ever had!), omelettes, roasted potatoes, baked beans, and something Érablière Meunier affectionately calls "bacon grill." We needed a drink that could hold up to all the sotolon, which is the powerful aroma compound found not only in syrup, but also in Chardonnay and woody wines. I was right in choosing the La Côte Chardonnay from Coteau Rougemont, a white that's partially barrel-aged. This process gives it a roundness and woody notes that make it taste perfectly balanced. Its acidity and structure allow it to stand up to strong flavours, while its salty finish played well with our savoury dishes.

You prefer reds? No problem! Rouge Bourbon from the Le Chat Botté vineyard was another fantastic option. This wine aged in bourbon barrels has a great body and structure without being heavy, so it's excellent with sotolon-rich dishes. I wasn't expecting it to taste so light, and was pleasantly surprised by its balance and sweet tannins. It really brought out the deliciousness of the maple ham—it was almost like eating a Michelin-star meal! All that to say, you can enjoy either a red or a white with these mains.

Team's feedback: The other guests were unanimous in preferring the white. Before we sat down, some of them had confessed that they weren't really fans of Quebec wine, so I was thrilled to have changed their minds with these special pairings!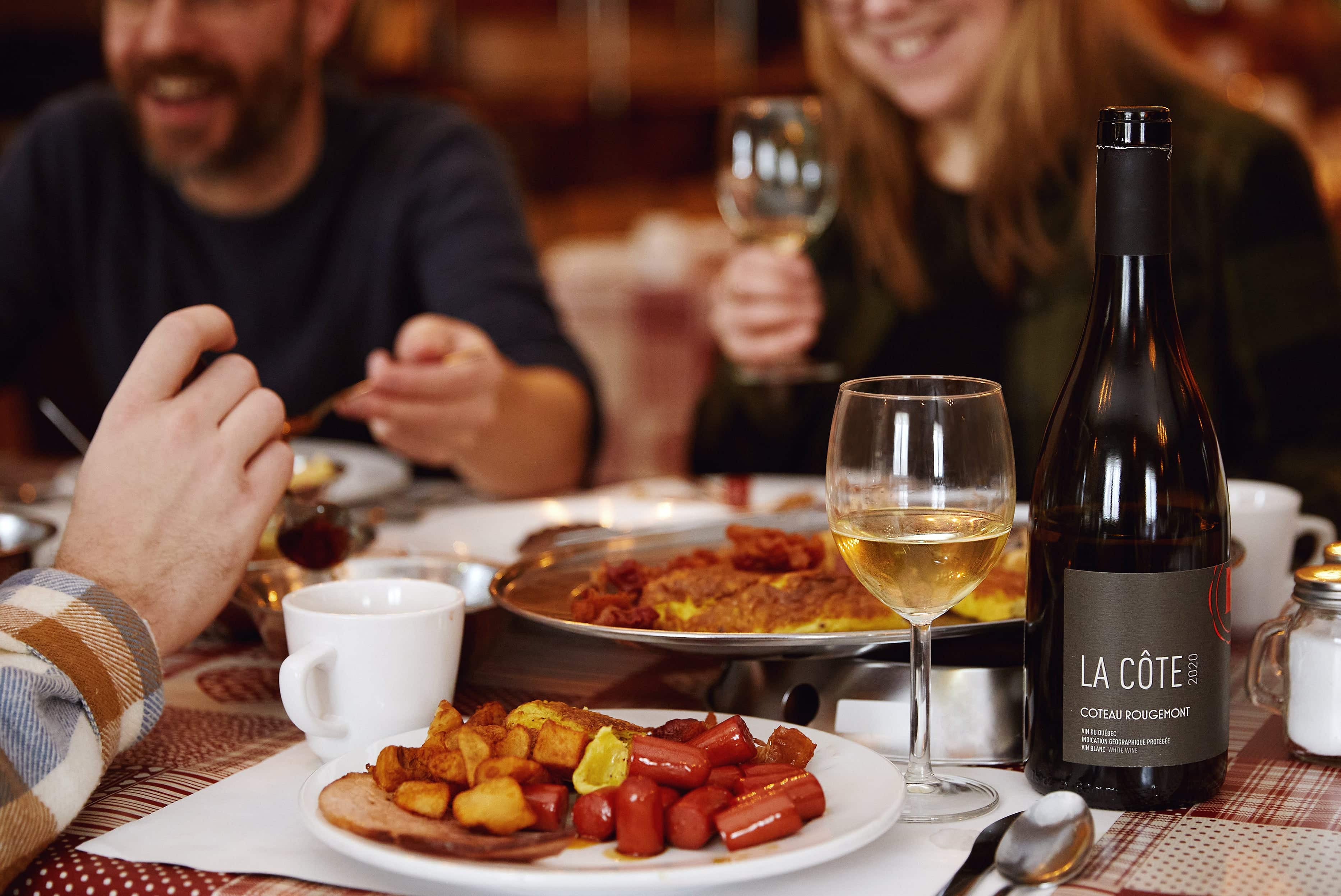 Our last course featured maple syrup pie, pouding chômeur, and crepes and waffles with—you guessed it—pure maple syrup.

Finding the right wine to pair with sweet eats isn't that tricky—it comes down to finding something as sweet as the dish, if not more so. With that in mind, ice cider seemed like the obvious choice for this course. I remembered that I had an ice cider that had been in my cellar for over 10 years, and this was a great opportunity to test how well it keeps. What a pleasant surprise! It was still nice and tart, while the sweetness had mellowed out—and the long, fruity finish was simply enchanting. Though it was divine on its own, it really elevated each dessert. I loved it with the pouding chômeur in particular, with the comforting sweetness wonderfully balanced by the bright cider. It was a match made in heaven!

Quebec's ice ciders have enough sweetness and acidity to withstand a long aging process. Add a bottle to your cellar so you can give it a try!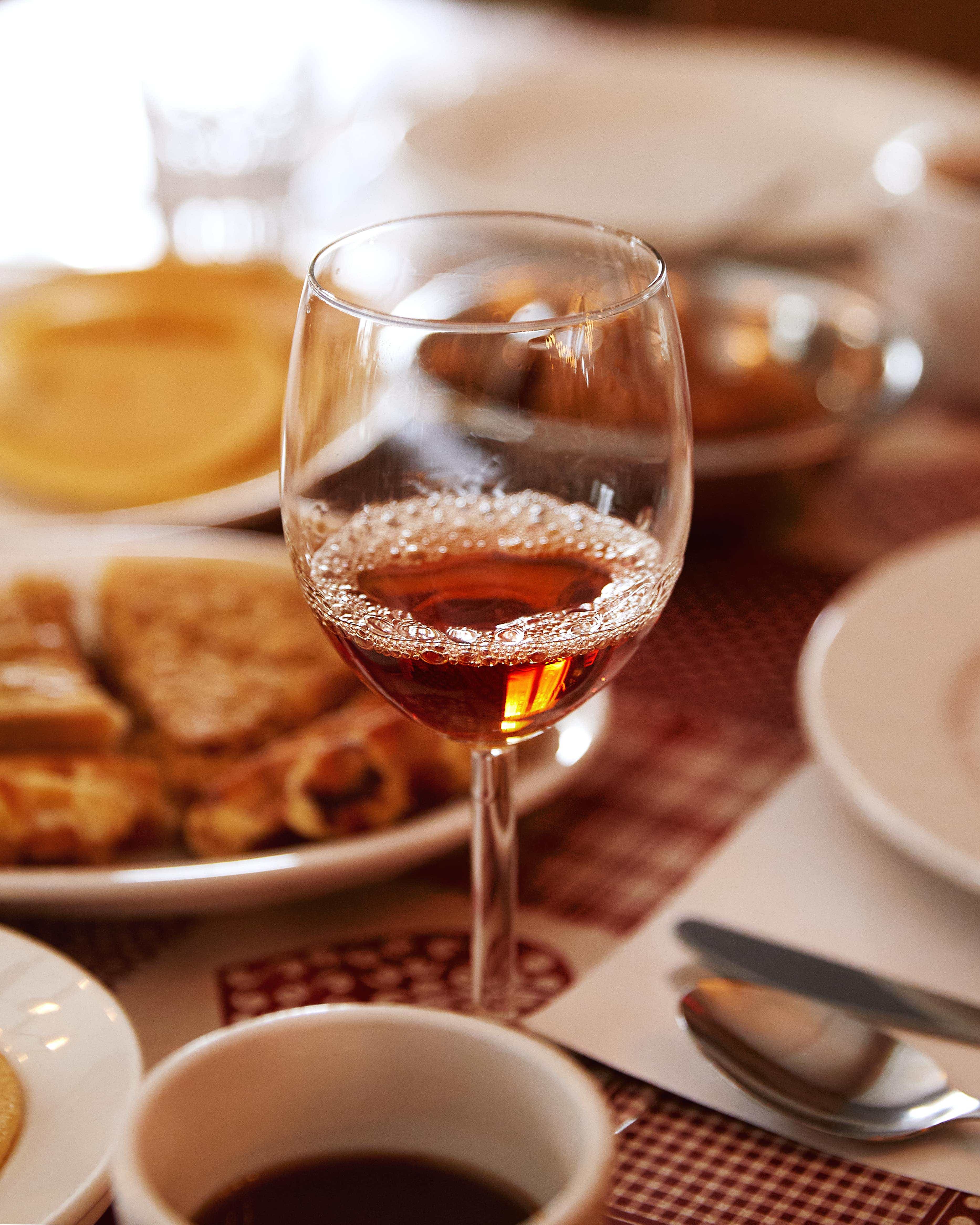 The grand finale: Maple taffy on snow!
With a little cider left in my glass, I set my sights on the spot where people were indulging in the best part of any sugar shack: maple taffy! With childlike excitement—all the sugar I'd eaten was maybe to blame!—I proposed that we bring our beverages outside. Our aged ice cider was also an ideal match for maple taffy. Individually, they were certainly delicious, but together, it was a whole other experience. I had to resist dipping my serving into my cider! Be sure to give this pairing a try.

At the end of the day, I'd made new friends who were introduced to new products. But more importantly, their curiosity was piqued and they were eager to try Quebec wines and other pairings.

After this experience, all I could think about was when I'd be able to come back! There was no doubt in my mind that local products are truly the best complements to a sugar shack feast. After all, both are unequivocally Quebecois!