Free style
For a different take on mac and cheese, use your favourite recipe to make… muffins! Cook the macaroni in mini portions, using non-stick silicone moulds or, failing that, parchment paper. Use bread crumbs for crust, placing them at the bottom of the moulds. To serve, arrange them on a tray. These macaroni bites are just right for a TV night, and for lunch any day.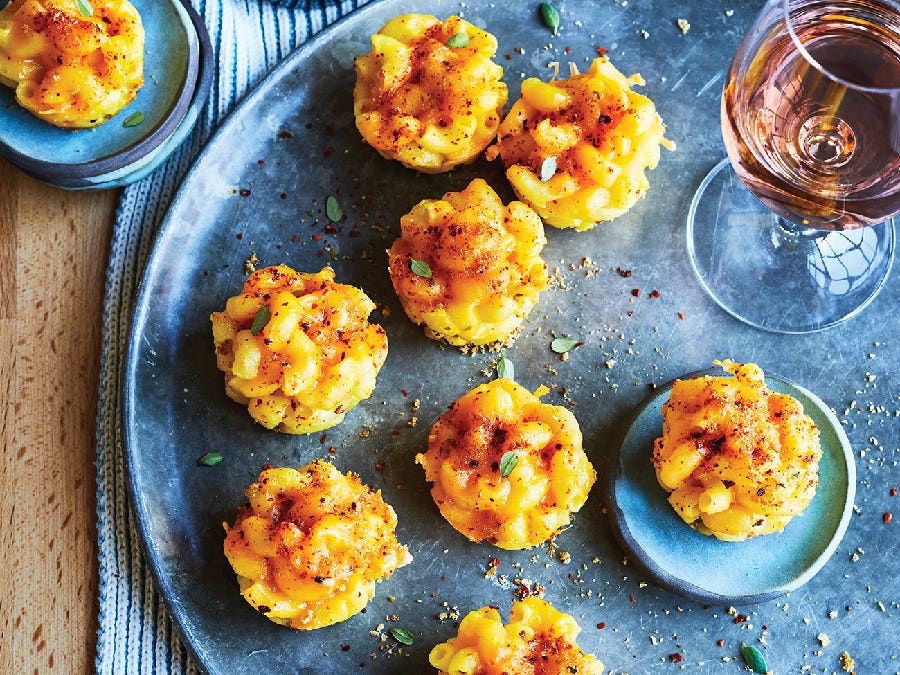 Mac-and-cheese bites
Preparation: 15 minutes
Cooking: 20 minutes
Cost per bite: about $0.30
Makes 40

Macaroni and cheese
45 ml (3 tbsp) butter
1 clove garlic, minced
45 mL (3 tbsp) flour
500 mL (2 cups) milk
1 pinch ground nutmeg
1 pinch cayenne pepper
15 mL (1 tbsp) Dijon mustard
500 mL (2 cups) macaroni
500 mL (2 cups) grated sharp cheddar
Salt and pepper
Crunchy crust and topping
500 mL (2 cups) Panko bread crumbs
125 mL (1/2 cup) melted butter
250 mL (1 cup) grated sharp cheddar
Préparation
Preheat oven to 200ºC (400ºF). Melt butter in a saucepan over low heat and sweat the garlic.

Stir in flour and cook a few more minutes without browning.

Incorporate milk and stir with a whisk. Season with salt and pepper.

Add nutmeg, cayenne and mustard. Mix. Cook over low heat for about 5 minutes until thickened.

Meanwhile, cook macaroni in a saucepan of boiling water until al dente. Drain and leave the pasta in the saucepan.
Stir in sauce and cheese.

Crust: In a bowl, combine bread crumbs and melted butter. Add cheese. Press bread-crumb mixture into the bottoms and walls of mini-muffin trays.*

Spoon macaroni-andcheese mixture into trays, and top with remaining bread-crumb mixture.

Bake for about 10 minutes, or until lightly golden.
*If possible, use non-stick muffin trays. If not, make sure to thoroughly grease the insides (so that mac-and-cheese bites won't stick) then line with bread-crumb mixture.
What to drink with these mac-and-cheese bites
Beer lovers will be happy with the light notes of fruit and spices in Boréale Ale Blanche Édition Polaire. If you prefer wine, you won't go wrong with classics like the Domaine Cibadiès Chardonnay, with woody and toasty aromas and a hint of butter. Rosé would make a surprising and refreshing match. Dry and mellow, the Borsao Rosado Selección exudes aromas of white flowers and red fruit. Its acidity responds well to the dish's fatty side.