Food
Summer calls for refreshing dishes like our spinach-and-strawberry salad with goat cheese and pecans, or bocconcini-and-guacamole bites. How about salmon tartar with roasted pineapple for the next course? It's just the right duo for the season. For grilled-meat aficionados, why not turmeric Lamb satays? And finally, a summer meal wouldn't be authentic without Quebec's fabulous red berries: our raspberry tiramisu pays them tribute.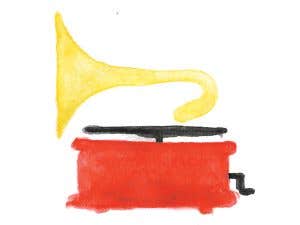 What we listen to
Noir Éden by Peter Peter
Univers parallèles by Damien Robitaille
Coastline by Geoffroy
Landing by Beyries
Blue Ceilings by The Franklin Electric
En vérité by Isabelle Boulay
Drinks
Rosés are a given, of course, but think about treating yourself to some refreshing and light reds as well. Slightly chilled, they'll be sublime with our recommended menu. You'll discover a wide range of fruity and spicy aromas. Also on the menu are rieslings, pinot blancs or chenin blanc. And don't forget the pride of our Quebec terroir: aromatized and ice ciders and a number of other white wines. Your guests will be suitably impressed! A tip: there are excellent wines available in larger formats for crowded tables, so don't hesitate to look for them.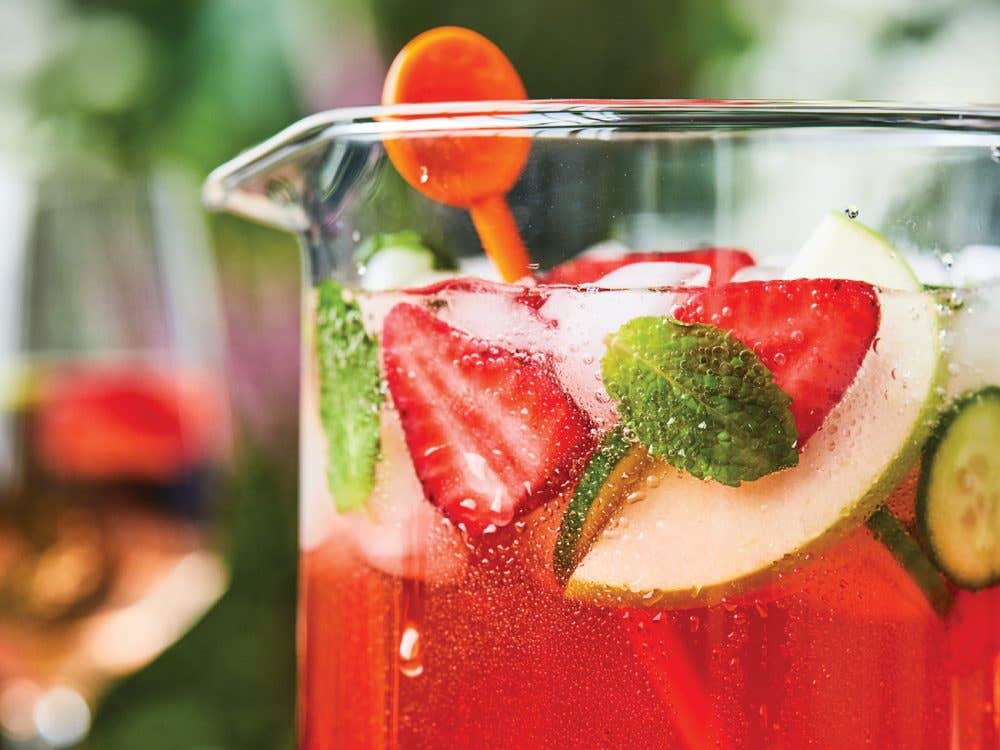 Quebec Rosé Sangria
Ingredients
250 ml (1 cup) Michel Jodoin Fine Caroline apple liqueur
750 ml (3 cups) Quebec rosé wine
500 ml (2 cups) club soda
Juice of 1 lemon
227 g (8 oz) strawberries, hulled and halved
2 green apples, sliced
1/2 english cucumber, sliced
60 ml (1/4 cup) mint leaves
Rosé sangria recipe in video
Inspiring salads
Cheese is a great salad companion. Here are some coupling ideas: cheese curds and cherry tomatoes, grilled cheese and cucumber, blue cheese and endives. Our spinach-and-strawberry salad with goat cheese and pecans recipe is a mix of sweet and savoury flavours, highlighting Quebec strawberries in particular. California-style salads, which typically use orange or mandarin sections, need look no further than the Côte des Roses Gérard Bertrand with its fresh notes of citrus. As a bonus, the bottle is designed as a work of art, sporting a base in the shape of a rose.
Not available

Online

Available

In store
Styling
After tossing the salad in its vinaigrette, transfer it to a large serving dish from which guests will help themselves. In addition to making an impression, this method encourages the spirit of sharing.
Versatile strawberries
Strawberries are a classic choice for desserts, but they're just as delicious as canapés with cheese cubes, or mixed in a spinach salad as our recipe points out. Avocado, asparagus and arugula are also delicious matches for this tangy little fruit.
Spinach-and-strawberry salad with goat cheese and pecans
Preparation 15 minutes
Cooking 5 to 7 minutes
4 servings
What to drink with this salad ?
The natural choice for this salad is a demisec white wine like the Dr. Loosen Riesling, intense with green apple and mineral tones.
Inspiring!
Rosés are gaining popularity. Provence and Languedoc-Roussillon top the list in this category, although there is increasing appreciation for rosés from other regions like the United States. Quebec, too, produces excellent cuvées.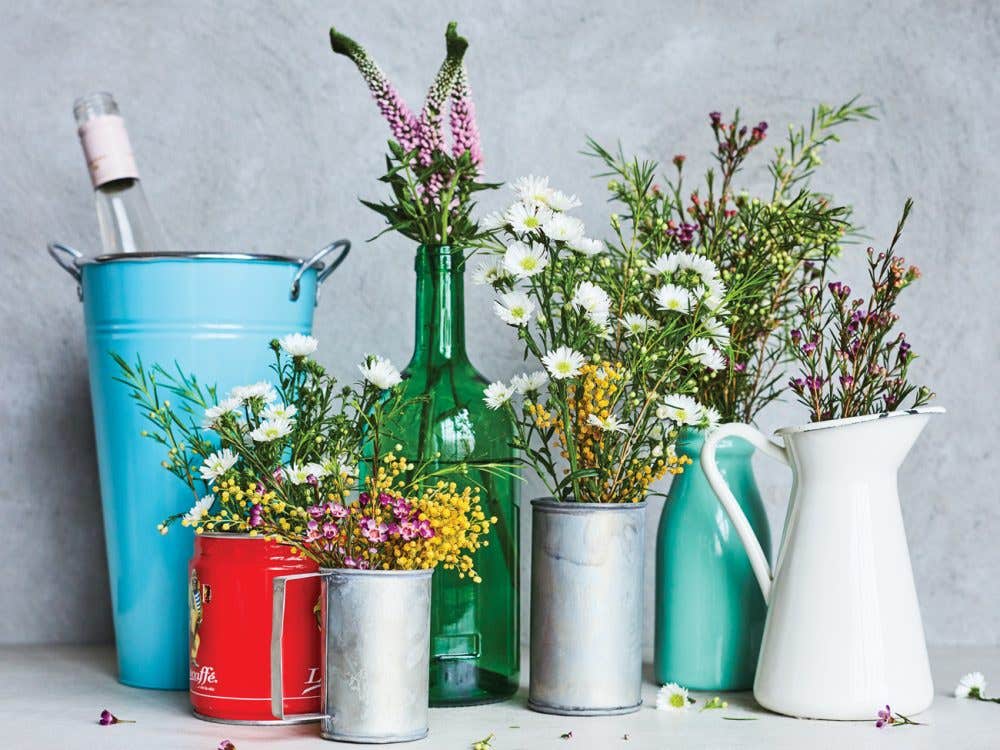 More decoration ideas
Empty wine bottles, tin cans, glass jars and other unused household items like pitchers, cups, vases, can double as tabletop decorations. Need an ice bucket? Improvise with a salad bowl, a plant pot, vase or metal watering can.
Delicious aperitifs!
White wines are often synonymous with aperitifs. The Vivolo di Sasso, featuring pinot grigio and chenin blanc, is the perfect example. This bottle exude delicate fruity notes that pair well with different hors d'oeuvres. Wines based on pinot noir (burgundies and several pays d'ocs), like the baron Philippe de Rothschild, are light in tannins and will please those wary of more robust reds.
Featuring freshness?
Vivolo di Sasso is without question the perfect companion for this dish. The cuvée's smooth texture combines well with the creamy avocado purée and the soft chewy bocconcini. Conversely, the dish's fresh basil will enhance the aromas of the white fruit present in this Veneto.
Not available

Online

Available

In store

Available

Online

Available

In store
Reinvented Tartar!
Summer is the ideal season to try fruit-based recipes. Exotic and flavourful pineapple – roasted in the oven or on the grill – lends itself easily to this salmon tartar. It adds toasty notes, and the slightly candied texture enhances the mixture. The tangy taste of fruit will echo the sharp, spicy ginger. If your recipe includes mangoes or citrus fruit, go for the La Sablette Côtes de Provence. Its subtle notes of strawberries and exotic fruit will round out the palate.
Available

Online

Available

In store
Tartar 101
For maximum freshness, prepare the tartar at the last minute. During a heat wave, put the salmon bits immediately in a bowl placed a top ice cubes. Keep the fish well chilled and use a sharp knife to dice it. The tartar will have just the right texture.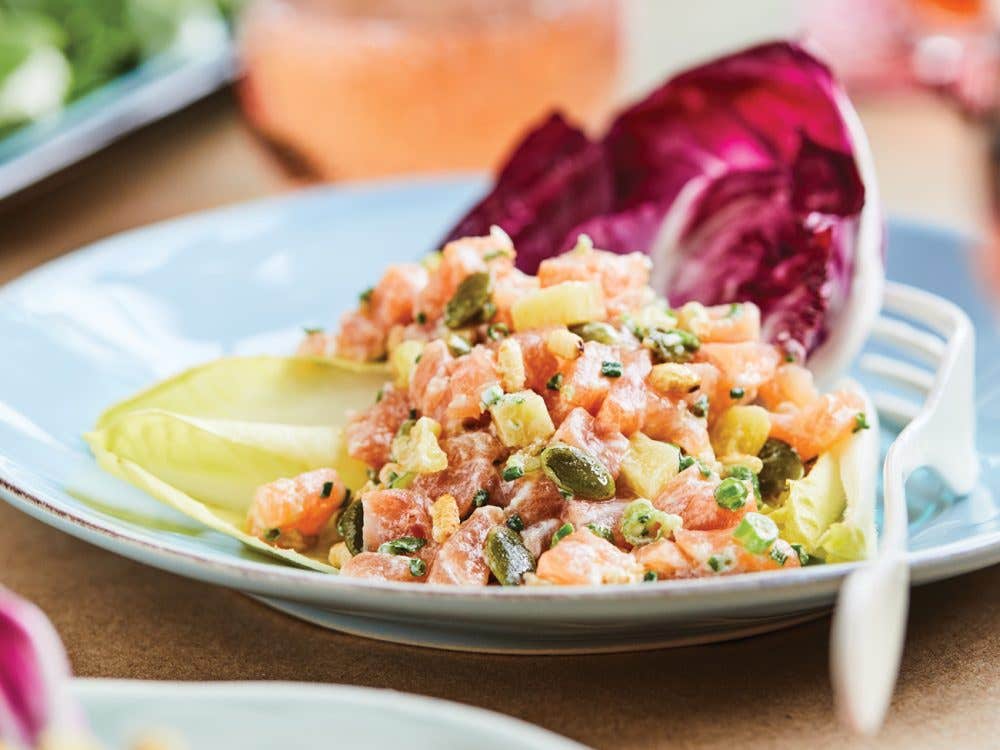 Salmon tartar, roasted and puffed rice
Preparation 25 minutes
Cooking 15 to 20 minutes
4 servings
Tip
Before going to buy salmon, put an ice pack in your shopping bag. If you forget, be sure to ask the fishmonger for some ice. Don't cut corners on the freshness of the salmon. Sushi quality fish is a must.
What to drink with this tartar?
Made using the traditional method, as is the case in Champagne, this Cava exudes notes of strawberry, gooseberry, pepper and nougat in an airy palate. Bubbles are fine and persistent. Its refreshing nature will counter-balance the fattiness of the tartare, while its fruity aromas will highlight the dish's exoticness.
Not available

Online

Available

In store
Rosé with vegetarian barbecues and grills
With a vegetarian feast, why not opt for a wine composed mainly with Syrah, a grape that evokes the south of France and its spicy scents. Looking for recipe ideas? Try our barbecued eggplant-cheese stacks, grilled-vegetable salad with mozzarella, or grilled-cheese-and-apple sandwich. Infusing the dishes with a touch of rosemary, thyme or oregano will further enhance wine and food.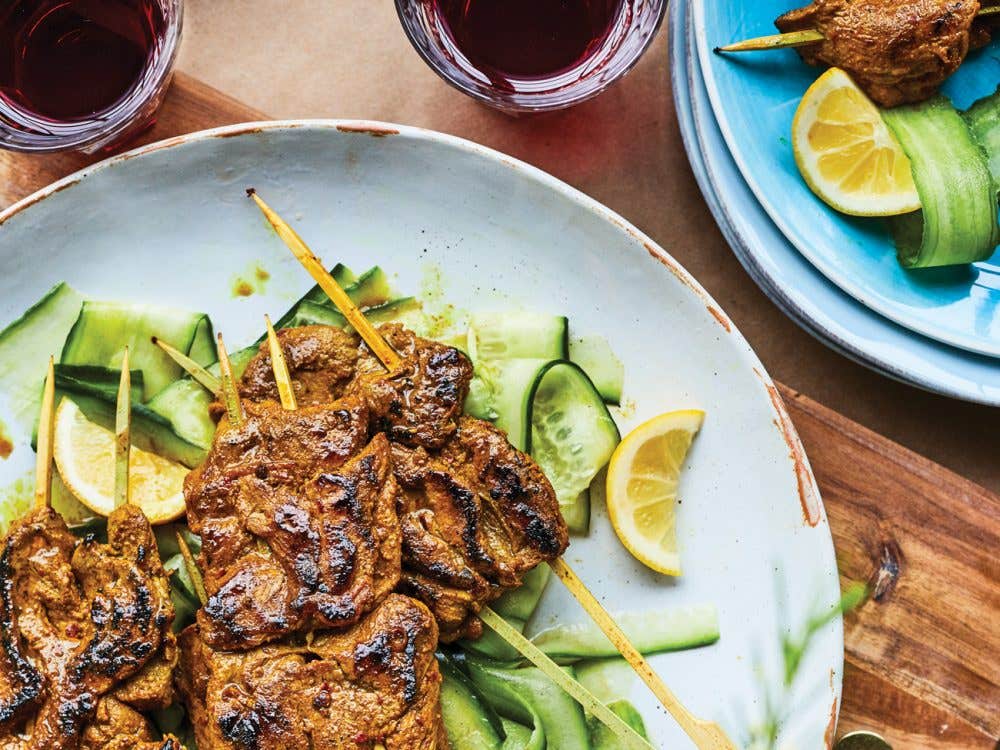 Turmeric lamb satays with soy-and-maple-syrup-sauce
Preparation 15 minutes
Cooking 5 minutes
4 servings
What to drink with these lamb satays?
As an accompaniment for lamb, the aromatic depth of this Spanish wine is a guaranteed delight. The Rioja Coto de Imaz Reserva benefits from long aging in oak barrels that imitates the cooking method. Soy, maple syrup and turmeric are three ingredients that go well with the notes of cooked fruit and the full-bodied personality of this Tempranillo.
Available

Online

Available

In store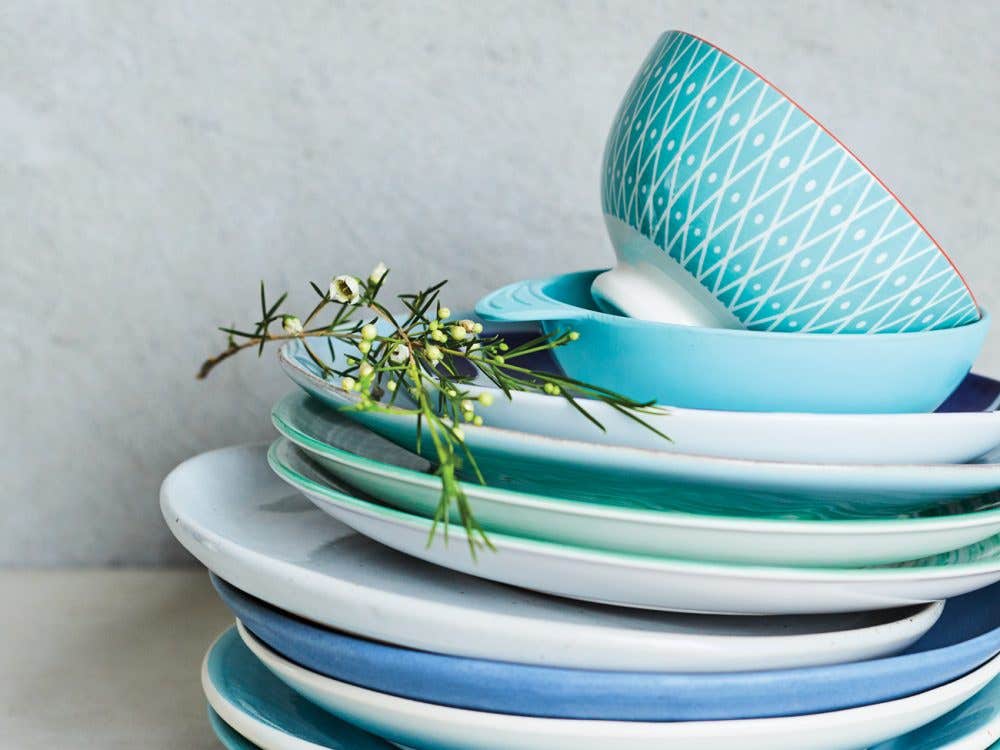 Tip
Mismatched plates will give your table a casual flair.
Our berry best
A great Italian classic, tiramisu has earned a place of honour among Quebecers' favourite desserts. For a local summer version, the coffee is replaced with raspberries. As for alcohol, you can soak the ladyfingers in whatever you have on hand: rum, brandy, or citrus, almond or berry liqueur…
One dessert, two styles

For a crowd, tiramisu is a practical and easy-to-make dessert. Prepare it up to 24 hours ahead of time to avoid a last-minute rush. Place it in a large serving dish for guests to help themselves. If you're throwing a more formal dinner party, individual portions are the way to go, using glass dessert bowls or small Mason jars.
*To keep cost down, substitute mascarpone for ricotta cheese.
Individual raspberry tiramisu
For individual portions, reduce the number of ladyfingers to 24 and the quantity of raspberries to 250 mL (1 cup). The remaining ingredients' quantities stay the same.
Follow the same preparation steps until Step 5 when you distribute the ladyfingers (dipped in the raspberry sauce) in 8 containers of 250 mL (1 cup) each.
Cover with a little cream. Repeat the preceding two steps.
Refrigerate for 3 hours.
Garnish with a few raspberries and enjoy the result!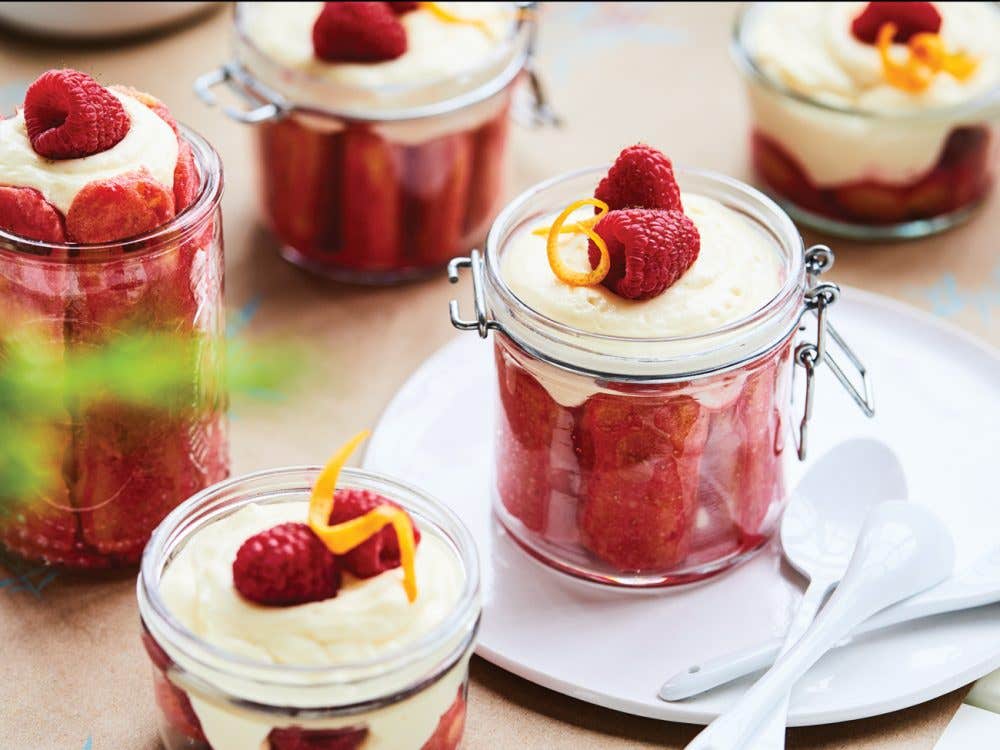 What to drink with this tiramisu ?
Tiramisu and this raspberry-flavoured cider make an unbeatable duo. They're made for each other! The melt-in-the-mouth dessert oozes an unctuously fresh Raspberry sauce that complements the Coteau Rougemont cider's pronounced notes of apple and raspberry. An excellent pairing of colours and flavours.
Coteau Rougemont Rose Framboise Flavoured cider (raspberry)

|

750 ml

Canada

,

Quebec

Available

Online

Available

In store
Inspiring!
A couple of other original pairings: ice cider with chicken liver mousse and mango salsa appetizers; flavoured cider with rhubarb pie for dessert. Fabulous!
Related posts
Take advantage of the summer with these easy and convenient alternatives to traditional drink formats. Whether canned wine, boxed wine, pre-mixed cocktails from Quebec or canned cider, there is something for everyone to enjoy this summer.

Read more

German wines are perfectly suited for today's tastes; lively wines with moderate alcohol content that rely on a rich history and grape varieties with a strong character.

Read more

What to drink tonight? What to drink with a plate of nachos? What to drink during a picnic or with grilled fare? But above all, what to drink in discovery mode during your vacation?

Read more