The many faces of a vineyard
The 12 appellations of Beaujolais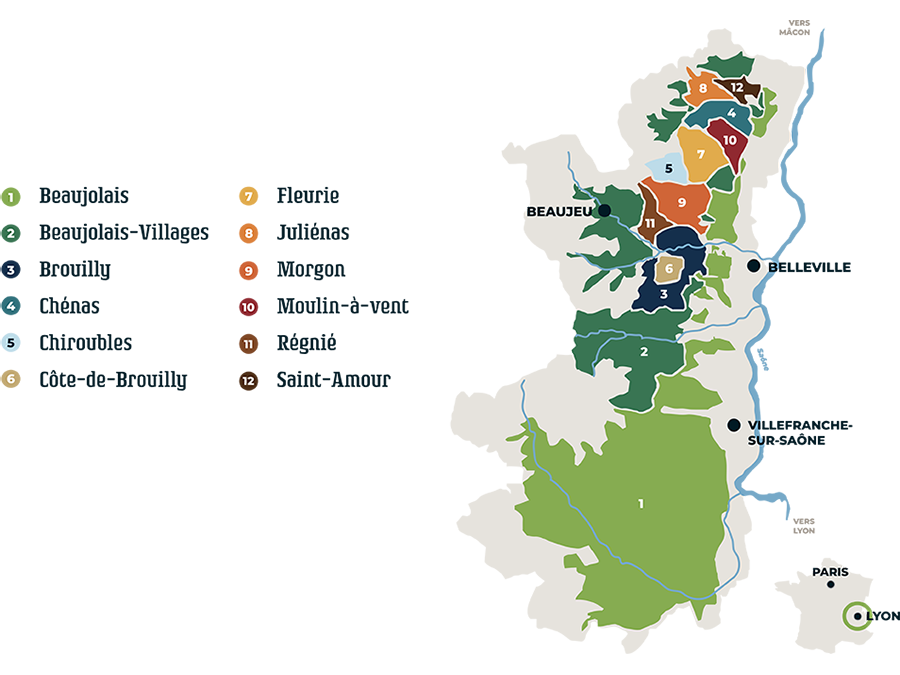 Beginning south of Mâcon and extending to the gates of Lyon, the Beaujolais region offers magnificent landscapes where nearly 13,500 hectares of vines are cultivated in a dozen appellations. Its extraordinary palette of wines and aromas is attributable to the great diversity of its terroirs. Grouped to the south, in the central part and the northern fringe of the vineyard, the regional appellations benefit from soils that are often clayey, sometimes chalky, at the base of wines with a dazzling fruitiness. Mainly granitic, sandy and schistose, the geology of the northern part shapes 10 crus recognized for their straightforwardness and their aromatic definition. A mosaic of terroirs serving easy-drinking, charming and accessible wines, but also refined and elegant cuvées with surprising aging potential.
Agroecology: A new vision of agriculture
Cutting-edge and committed to an approach aimed at promoting a wine culture that is ever more respectful of the environment, this new generation of winegrowers and merchants is joining the producers already well established and appreciated on the Quebec market.
Adapting to environmental conditions and producing enough while preserving natural resources notably involves a new vision of agriculture: agroecology.
Both victim of and responsible for climate change, intensive agriculture accounts for 18% of greenhouse gas emissions and impoverishes not only the soil but also ultimately the fauna and flora. More permeable, living soil stores more water, regenerates itself and increases its organic matter content. Agroecology takes this path of collaboration with nature which, in the eyes of producers in the region, is not a fad but a necessity.
Agroecology in short:
maintenance or reintroduction of biodiversity throughout a farm (planting of hedges/trees, agroforestry, bat nesting boxes to fight against grape worms)
limitation of chemical inputs (herbicides, fungicides, pesticides)
preservation of soil life and optimization of water use
restoration of a varied landscape
Going beyond red at the table
Known worldwide for its inimitable reds, which make up 95% of its production, Beaujolais nevertheless stands out in all three colours. An effective trio as much to open the aperitif with brilliance, as to have a place of choice alongside a multitude of dishes.
Beaujonomie: About sharing and lifestyle
Philosophy, anti-individualist state of mind, Beaujonomie promotes the spirit of sharing (the table, the wine, the dish), the exchange, the discovery and the rediscovery of Beaujolais. It is above all a taste for encounters, beautiful and large tables and long conversations. From comforting recipes to the culinary flights of a new generation of chefs, the 12 appellations of the region know how to create the moment. A new bistronomy at the service of Beaujolais know-how, that's Beaujonomie!
Want to be part of it? Here are six wines that will allow you to explore this magnificent vineyard. All you have to do is send the invitations and choose what to put out on the table!
In collaboration with Inter Beaujolais